Will N Chandrababu Naidu's son Lokesh be able to manage the old guard the way his father did?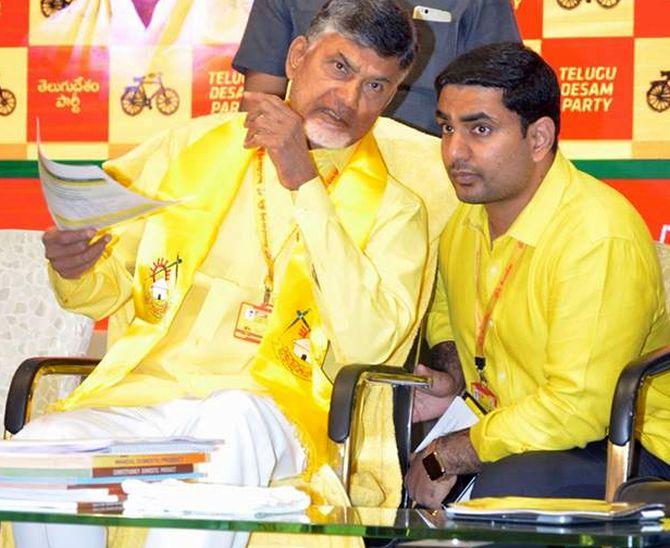 The contrast could not have been more obvious.
At the recently concluded Mahanadu (national council) meeting of the Telugu Desam Party (TDP) at Visakhapatnam, many of the original founders of the party were absent or silent and it was the unstoppable rise of the family of Chandrababu Naidu that was on show, very publicly.
N Harikrishna and N Balakrishna, sons of N T Rama Rao and among those who put the party on the map, were not present: although one is a politburo member and the other a member of the state assembly from Hindupur.
Harikrishna's name was called out as one of the speakers. He was not present. Balakrishna, an actor, was said to be abroad, shooting. Many senior TDP members said it was possible that Harikrishna had not even got an invitation.
What is important is not fact but perception.
Prior to this Mahanadu, Chief Minister Chandrababu Naidu's son Lokesh was appointed minister in the Andhra Pradesh cabinet.
Although the TDP came to power in 2014, Naidu did not make Lokesh a minister immediately or even nominate him as a member of the legislative council. The CM waited nearly three years, possibly anticipating resistance to a son-rise within the party, while giving Lokesh responsibilities in the party (he became a general secretary of the TDP in 2015).
He was nominated as a member of the legislative council on March 7 this year and later inducted as minister.
Those who were present at the Mahanadu describe the scene: There were 15 to 20 young people, mostly sons and daughters of former TDP leaders, who flanked Lokesh, keeping him informed all the time about what was happening.
K Greeshma Prasad, daughter of former speaker and TDP leader K Prathibha Bharathi, seemed to be one of his trusted lieutenants, as was K Malli Naidu, son of the state's minister for energy K Kala Venkata Rao, who owns a two-wheeler showroom and will shortly be launching a chemical factory.
Sudheer Reddy, son of former minister and Srikalahasti MLA Bojjala Gopala Krishna Reddy, was also on hand.
There almost seemed to be an inner core to the core of the TDP. This comprises Lokesh and his youthful supporters who are themselves sons and daughters of influential TDP leaders.
So the baton in the TDP is being passed to younger hands. How will the succession play out politically? Does Lokesh have the political savvy of Chandrababu Naidu? Will he be able to manage the old guard in the way that his father did?
You have to give Chandrababu Naidu full marks for political flexibility.
In July 2013 (soon after Narendra Modi had commented in reply to a question on the 2002 Gujarat riot killings that even if a puppy comes under a car, 'one feels bad'), Naidu had called a press conference at his Hyderabad residence and said: "Muslims were killed in huge numbers during the 2002 Gujarat riots; comparing that to a puppy getting crushed under a car is shameful. It is disgraceful that the man holding the post of CM has such feelings."
He added that Modi had shown no remorse for the killings of Muslims right under the nose of his government.
"He has overlooked the fact that his comments would hurt the sentiments of families, who lost their loved ones in the riots, and will boost communal rogue elements," Naidu said.
And guess what? Naidu joined the National Democratic Alliance in 2015, cast aside his squeamishness and got two ministerships in the Union government in the bargain.
To seal the relationship with the BJP, he even went for the swearing-in ceremony of Yogi Adityanath, against whom, too, many cases of "fostering ill-will against communities" are pending.
Andhra Pradesh and the TDP are going great guns.
Capital is fleeing Sriperumbudur and setting up shop in Sri City just across the Tamil Nadu-Andhra Pradesh border.
The creation of a new state and several cities is consuming Chandrababu Naidu.
It is an arduous and lucrative business. He is minding the shop.
It helps that political challenges to him are limited.
Y S Jaganmohan Reddy has not posted any significant electoral victories.
The BJP, so long as it is an ally of the TDP, is forced to swallow its rage at the TDP's depredations -- financial and political.
Jana Sena, the outfit floated by Pawan Kalyan, extended its support to the BJP-TDP combine, but is now moving out. The Congress is virtually non-existent.
So Chandrababu Naidu is the monarch of all he surveys.
There are some festering issues like special status to AP, but that is a matter of optics.
If there is rebellion, it has to come from within the TDP. But who will it be?
Image: Lokesh Nara with his father, N Chandrababu Naidu. Photograph: Lokesh Nara/Facebook.