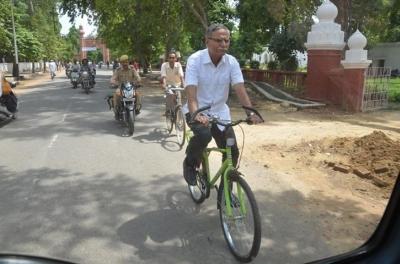 "They call me the Class 10 vice-chancellor," he says as his thin lips flirt with a smile. You almost feel that the tall man of spare build is being facetious. And then you see that his deep set eyes are not twinkling. There is a sense of the combative in them.
Lieutenant General Zameer Uddin Shah has taken a lot of flak after assuming office as the vice-chancellor of Aligarh Muslim University and, like the army officer that he is, the general is not about to sit back and take it without throwing a few punches himself.
"They call me the Class 10 vice-chancellor," he repeats in his baritone voice. "But that is not true. I have a master's degree in defence studies as well as an MPhil degree."
Besides, he also has experience in academia, having been, among other things, chairman of the Army Institute of Management in Kolkata.
"And," he continues, "I did not ask to be made the vice-chancellor of AMU. I was already serving on the Armed Forces Tribunal when I was elected the VC of this university."
Being the top man at AMU has never been easy. The university has always been in the eye of controversy over campus incidents, with the 63-year-old institution having more than its share of violence and closures. Several vice-chancellors have had chaotic terms.
When Shah took over in May 2012, AMU was only recovering from the resignation of the incumbent VC, Dr PK Abdul Aziz, who was under a Central Bureau of Investigation probe for financial improprieties (he was cleared of all charges by the CBI).
The former deputy chief of the Indian Army set about his task in all earnestness. With military precision, he pinpointed student and faculty indiscipline as the main areas that needed rectification and initiated a series of changes.
"I am not used to standing still because I have to earn my salary, repay my community and meet the expectations of those who put me in charge," he says.
He directed teachers to be regular and punctual for classes, made 75 per cent attendance in classes mandatory for students to be able to sit for exams, banned bikes from hostels, ordered that Hindu and Urdu be made compulsory, appointed some army officers to key administrative posts and in the faculty, and stipulated that any male student who wanted to meet him should be dressed in a sherwani while a female student should be dressed appropriately.
There was an immediate reaction from students and teachers. Students protested as did the teachers, who called him "the Class 10 VC" who knew nothing about university administration.
But Shah refused to relent.
"The people who were hurt were those who were static. But we have to change and reform," he says.
"I need people whom I can trust implicitly and who can do things quickly because things have to be righted quickly here," he says of his induction of army officers for administrative work in AMU.
It's been over a year now that he began his effort to, as he says, "reignite a renaissance of AMU". The student protests have died down, the teachers still have issues with the new regulations, but the university is settling down.
"Well, there is no disturbance in AMU these past months, so it means the VC's changes are being accepted," says Aziz Uddin, a former student who is now a university employee.
AMU is located on a vast 1,200-acre campus. Its 32,000 students, almost 70 per cent of whom are hostellers, are enrolled in 355 courses. Banning the use of motorcycles has made traversing the campus difficult for the students. Shah ordered bikes off the campus primarily to check anti-socials and "motorcycle gangs" from misusing the facilities offered by the campus.
"The measure was not well-thought out. After banning motorcycles, no provisions were made for transport," says Junaid A Sofi, 22, a final year medical student at the university.
"Besides, it doesn't serve any purpose if non-residential students and girl students are allowed the use of two-wheelers in the campus," he adds.
But the girls are happier. "No woman could walk in the campus in the evenings or nights due to hooliganism," says Renu Bisht, 21, an MTech student.
"Now the situation is better. Also, hostel accommodation has been provided to most women students, with plans for new hostels also gaining ground."
Reacting to the stipulation that teachers should be present in their departments from 8 am to 4.15 pm every day, Dr Aftab Alam, honorary secretary of the AMU Teachers' Association, says, "Nowhere is the physical presence of teachers beyond his/her class time insisted upon as the nature of their duty requires flexibility and teachers also spend considerable time on study and preparation of lectures beyond office time at their homes."
The teachers have demanded that the order be withdrawn, and have also voiced concern about the vice-chancellor using his emergency powers to appoint teachers.
The AMU faculty is long known to be divided into camps, and the VC says he is aware of how these factions have pressured vice-chancellors before him.
"There is no communal issue here, it is more of regional in nature -- eastern UP vs western UP vs Bihar, etc," he says. "Regionalism is certainly a problem, but we will overcome this."
He admits that he has faced resistance from the teachers' union, but his objective is to "gently and gradually" win them over.
"There always is resistance to change," says the army veteran.
Shah was born in Sardana in Meerut district. He and his brothers, including actor Naseeruddin Shah, studied at St Joseph's College in Nainital. He got entry in the National Defence Academy and embarked on an illustrious armed forces career, climbing up to the second highest post of deputy army chief.
His life at St Joseph's and the army continue to inform his views and underline his actions.
"I studied in a Christian institution, and while I was a Muslim I had to respect the sensibilities of the college," he says.
Similarly, he wants non-Muslim students of AMU to respect the university's ethos without prejudice to their own faiths. Hence the diktat on the sherwani, which, he informs, is not an imposition in any case since all students are required to pay Rs 800 at the time of admission for a sherwani provided by the university.
As for the army, he says, he could not have lived in a more "first-rate" secular environ than the armed forces and it has taught him not only to be accepting of all creeds, but also taught him not accept the usual excuse of discrimination that Muslims tend to give to explain failures.
"Could I have reached where I did if there was discrimination," he asks.
His gambit, instead, is to encourage new thought, whether it be in careers (he has initiated steps to rework syllabi to meet corporate needs, given a fillip to courses like disaster management and strategic studies, encouraged students to join the armed forces, promotes sports as a career) or administration (has focus on waste management on campus, modernised kitchens in hostels, greened the university).
Shah is punctual to the T and expects the same of others. In fact, he says that as an army officer his credo is to lead from the front. After banning motorcycles, he himself started using a cycle between his office and home.
On August 13, on the way to office, a car rammed into his cycle, some say deliberately, and he suffered fractured ribs and injured his knee.
He may have made a lot of enemies in the short while he has been in Aligarh, but the general is gaining respect too.
Jasim Mohammad, an old boy and editor of the magazine, Aligarh Movement, says, "Lt-General Shah's initiatives and projects have disciplined the campus and his devotion has forced the faculty to devote much more time to the research. In fact, the zeal with which he is trying to make AMU a centre of excellence is well-appreciated."
When he hears this sort of support for his efforts, the keen sportsman, ramrod straight when he stands up despite his 65 years, will only smile, pull at his snow white whiskers and put it all down to his army approach to solving problems.
Image Courtesy: https://www.facebook.com/pages/Department-of-Library-and-Information-Science-AMU-Aligarh/