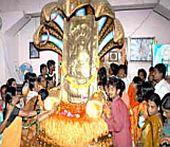 Faith and law clash at the powerful Ganeshwar Mutt in northern Karnataka as a spate of deaths, including that of the mutt head Sadguru Ganeshwar Avadhoota Swami, have raised eyebrows. Vicky Nanjappa reports
There is more than what meets the eye at the Ganeshwar Mutt in Bidar, northern Karantaka.

A month after mutt head Sadguru Ganeshwar Avadhoota Swami committed suicide, three of his followers immolated themselves on Monday.
Avadhoota Swami committed suicide on February 28. He had tried to commit suicide in January as well, but survived.

The police, who were not permitted to conduct a post mortem, said they were given a chit written by the priest stating that he was upset with the suffering of his followers and hence decided on joining his creators.

Later, the police found another note which stated that anyone could take over the mutt and that he had no attachment to anything.
The Bidar police have not made any real progress in this case.

There was a lot of pressure on authorities to conduct a post mortem. But devotees stood in the way of the doctors and the police, and said that no such investigation shall be allowed. They reasoned that their spiritual leader had not committed suicide, but attained samadhi.
The police are, however, refusing to buy this version.

It is a sure case of suicide by consuming poison, a police official told rediff.com, adding that this could have been a result of some long-pending land dispute in which some of the priests were involved.
Adding credibility to this theory is the case of the disappearance of another priest two months back.

The devotees are not giving away much and swear by the swami. The mutt has many followers, some of whom gave up well-paying jobs to be part of it.

The powerful mutt has great influence, especially over the Lingayats in northern Karnataka.
The police say that the self-immolation by three other followers of Avadhooota Swami on Monday is part of a sequence of events.

In their suicide note, they have said that they wished to join their departed guru as they were unable to live without him.
The police say that there would be a thorough investigation into these incidents.