The number of disgruntled leaders in the Congress is swelling, say party insiders.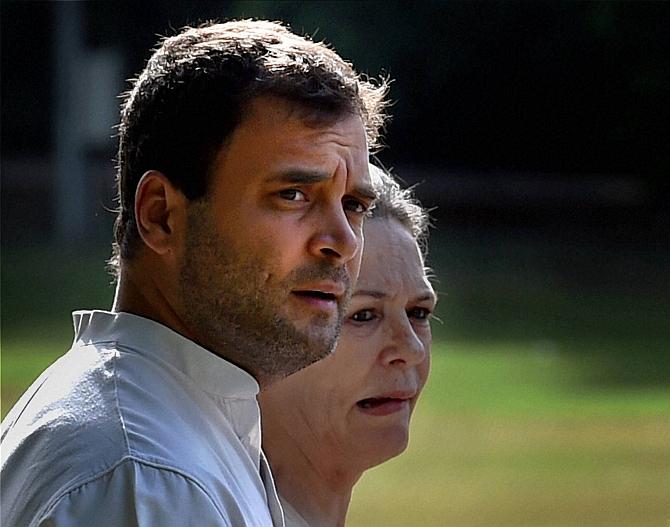 Former Union minister Jayanthi Natarajan's exit from the Congress has taken a heavy toll on the morale of the party, which is struggling to stand up after a series of electoral debacles. The number of disgruntled leaders in the party is swelling, say party insiders.
Sources say one of the senior Congress leaders, Karan Singh, was so miffed that he shot off a letter last week to party President Sonia Gandhi, asking her to remove him from the post of chairman of the Congress' Foreign Affairs Department.

He was angry that he was not included in the delegation to meet US President Barack Obama.

It took a lot of cajoling from Gandhi to placate the leader from Jammu and Kashmir.

It is also significant that several of the disgruntled leaders are also party seniors, who find themselves sidelined in the Rahul Gandhi-controlled Congress.

A delegation led by former Prime Minister Manmohan Singh had Sonia Gandhi, Rahul Gandhi and former Commerce minister Anand Sharma as its members.

Political circles were abuzz that Singh was contemplating to quit the party. His son Ajatshatru Singh had recently joined the BJP. His second son Vikramaditya Singh is in the Jammu & Kashmir's People's Democratic Party.

While Tamil Nadu seems to be the hotbed of dissension, with first GK Vasan, then Natarajan and now speculation is rife that former Finance Minister P Chidambaram and his son Karti Chidambaram are on the way out. However, both the leaders have denied this.

The two leaders are opposed to Tamil Nadu PCC chief EKS Elangovan. To give an impression that the issues are being sorted out, the Congress leaders heard out both sides. But issues remain as serious as they were.

Incidentally, it was a candid P Chidambaram who some time ago had floated the idea that a "non-Gandhi can become the party chief".

Another senior leader, who spoke on condition of anonymity, said, "Everything that Jayanthi had said was not wrong. We are not courtiers or slaves. Several of us have been asking for appointments and have not been given time. Our views are not taken or considered important. We are waiting for the outcome of the Delhi assembly elections."
Another party veteran Digvijaya Singh, a once Rahul Gandhi confidante, is no more in the inner circle the Congress vice-president.

"Congress Vice-President Rahul Gandhi by temperament is not a ruling person. He failed to communicate," he said.

Rajya Sabha member and former Union minister Renuka Chowdhury was dropped as a Congress spokesperson during the Telangana agitation.

Chowdhury was not pleased that non-political types like Sanjay Jha were thought fit to be voices of the party.

Speaking to Business Standard, Chowdhury said, "It is high time that we did some honest stock-taking and learnt to speak the truth internally at least. The first ones who need reassurance are our party workers, who at the moment are looking for guidance."

Another problem area for the party is Punjab, with former Chief Minister Captain Amarinder Singh upping the ante against PCC chief Partap Singh Bajwa.

Singh has publicly called for Bajwa's removal and the high command is at present hearing views from Punjab MLAs before taking a decision. There were rumours that the disgruntled Captain might quit the party.