On the ground, rural medical infrastructure and more crucially, women's access to reproductive health services is practically non-existent in Uttar Pradesh, reports Geetanjali Krishna.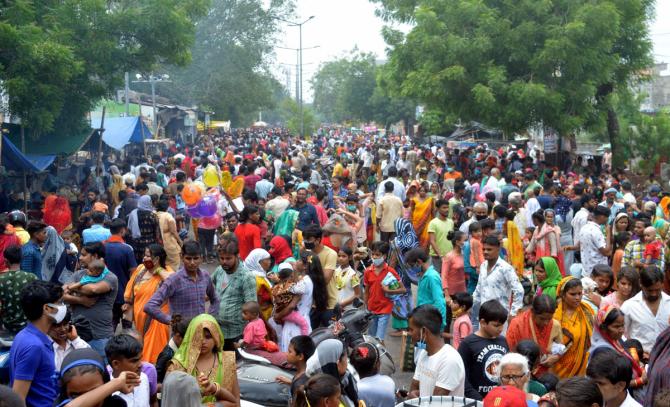 On World Population Day on July 11, Uttar Pradesh State Law Commission released the draft Uttar Pradesh Population (Control, Stabilisation and Welfare) Bill, 2021, to promote two-child families in the country's most populous state.
A slew of incentives and disincentives have been laid out -- violators of the two-child norm will be debarred from contesting local body elections, applying to government jobs or receiving any government subsidy, while couples below the poverty line who comply by voluntarily undergoing sterilisation after their second child will receive monetary benefits.
Available for comments/revisions till July 19, 2021, the draft has already been criticised by opposition parties for having a political agenda.
For demographers and agencies working in rural Uttar Pradesh, the need to reduce the state's growth rate of 2.7 per thousand population is undeniable; in fact, the draft Bill proposes to reduce the growth rate to 2.1 by 2026 and 1.9 by 2030.
They, however, take issue with implementing punitive measures against large families when, on the ground, rural medical infrastructure and more crucially, women's access to reproductive health services is practically non-existent.
Business Standard visited parts of Bhadohi, one of the state's lesser developed districts, to gauge this.
"Families here opt for more children because of the fear that they may not all survive," explains Pushplata Maurya of Shramik Bharti, a Kanpur-based NGO working on food and economic security in the area.
According to the Sample Registration System (SRS) survey 2018, the infant mortality rate of UP is 41 per 1,000 births (44 for rural areas), as opposed to the national figure of 32.
Maurya's intervention villages include Jamunipur Athgawan, a group of eight hamlets in Bhadohi.
"One of its hamlets, Beejapur, does not have a single working toilet. Villagers drink from a well so contaminated that they strain out insects before consumption," she says.
Local Asha (accredited social health activist) and anganwadi workers are responsible for ensuring institutional deliveries and vaccinations, but the pandemic has shifted their focus.
"Children fall sick very often here," says Asha worker Anita Devi.
"We tell women about the benefits of smaller families but with the uncertainty of life here, they don't listen."
On an average, women here, mostly marginal farmers or agricultural labourers, have at least four children.
"It's difficult to feed so many mouths but we do it because some might not live long..." says local Maina Devi, who gave birth to twins (taking her tally to four) only last month.
Maurya says, "Till villages like Beejapur do not get better health and sanitation facilities, which would give people confidence that their children will thrive, it will be difficult for the auth­orities to enforce a two-child norm here."
Not far from Beejapur, a shy Najma Begum is expecting her second child in Khamaria, also in Bhadohi district.
Her firstborn is not even a year old.
Najma is not alone.
According to SRS 2018, 1.4 per cent of second births in UP are within 10-12 months of the first birth (the all-India figure is 1.6).
Lack of spacing between two children indicates lack of access to information and contraception, a fact Najma Begum echoes.
"I don't go out of my house alone," she says.
"Even if I wanted to use contraception, I won't know where to get it from and how to use it."
Population Foundation of India (PFI) and Pratigya Campaign have been advocating for improved access to reproductive healthcare services for women in India, which automatically ensures women bear fewer children.
PFI is further advocating the bolstering of female literacy as a means to curb fertility rates.
SRS 2018 data reveals that as women's literacy rates rise, their Total Fertility Rate, or TFR (the total number of children born to a woman) reduces.
For example, Kerala and Himachal Pradesh have female literacy rates of 99.5 and 98.8 per cent and TFRs of 1.7 and 1.6 respectively.
In contrast, Bihar, Jharkhand and Uttar Pradesh have female literacy rates of 76.5, 77.4 and 79.7 per cent, and TFRs of 3.2, 2.5 and 2.7, respectively.
With the window for debate ending on July 19, many worry that UP's draft Bill may accomplish little if performances of 12 Indian states -- including Raj­asthan, Odisha and Haryana, which have similar rules excluding serial procreators from government jobs, subsidies, schemes etc -- are anything to go by.
"Nationally and internationally, two-child policies have not proven effective in bringing down fertility rates," says executive director of PFI, Poonam Muttreja.
"There is evidence that population control measures can lead to negative consequences such as an increase in sex selective practices and unsafe abortions."
Kerala and Tamil Nadu have reduced fertility rates without coercive methods but by empowering women and providing better education and healthcare facilities.
"UP would do well to learn from them," says Muttreja.