Two brothers are determined to preserve Delhi's struggling population of carnivorous birds
Colourful kites flutter in the breeze over the flood plains of the Yamuna. A stone's throw away, two brothers have been working for the last 11 years to save Delhi's struggling population of carnivorous birds, especially raptors, which suffer as a consequence to this popular pastime. On the terrace of their home-cum-workshop in Wazirabad, Nadeem Shahzad, 36, and Mohammad Saud, 33, tend to broken wings, damaged bonesdeep tissue injuries in the birds they have rescued from across the city.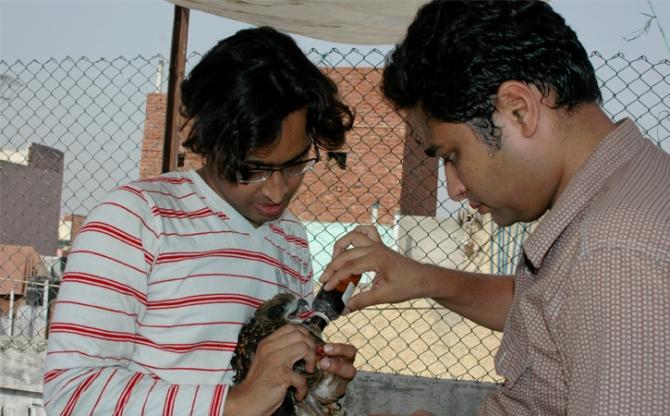 Nadeem Shahzad (on left) and Mohammad Saud tend to an injured bird.
"Not only are these birds being deprived of their natural habitat and diet by the advances of urbanisation, they're being severely endangered by the practice of using glass-coated string (manjha) to fly kites," says Saud. "And the new Chinese, metal-coated plastic thread that kite-lovers use these days slices through their bodies like a knife." "Our journey began in 2003, when we took a black kite with severe cut wounds to the Jain Bird Hospital in Old Delhi," Saud says. The hospital refused to treat birds that ate meat. Raptors are found in huge numbers in the capital. These eagles, kites, falcons and vultures live off scraps of offal dumped outside abattoirs, legal and illegal.
Raptors are an intrinsic part of urban ecology, playing a vital role in keeping the surroundings clean. "If their populations decrease, Delhi would fall prey to disease outbreaks. Keeping raptors healthy keeps the city healthy too," says Shahzad. "We couldn't sit back and allow them to die just because no hospital would care for them. So we decided to bring them to our terrace to tend to them as best as we could." Initially, there were obstacles aplenty.
First, we had no veterinary knowledge. Second, our terrace was small and we couldn't afford a bigger space," they recount. Third, other wildlife rescue bodies (rightly) questioned their abilities and did not easily send to them the raptors they rescued. Undeterred, the brothers learned whatever they could online and from books, and even took guidance from their neighbour, a famed kabootarbaaz (keeper and trainer of pigeons).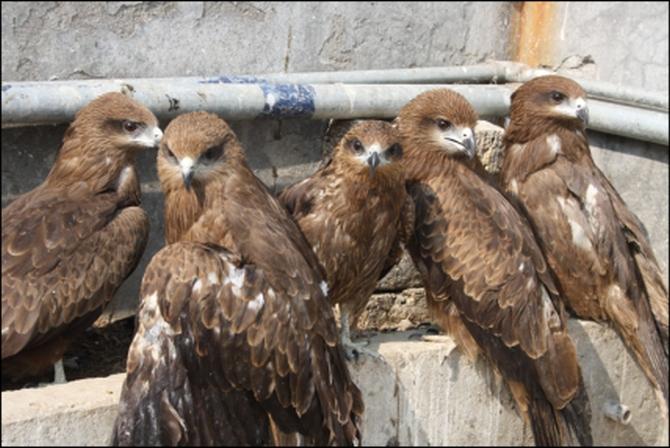 The rescued birds on the brothers' terrace shelter. Photograph courtesy: wildliferescuedelhi
"He has immense experience treating bird injuries and we learnt a lot from him," says Saud. Using their limited funds, the brothers erected a small shelter on their terrace. They instituted an organisation, Wildlife Rescue, and began treating injured birds of prey. "We fed them, tended to their injuries and released them into the urban wild when they recovered," says Shahzad.
Soon, the two began questioning the existing protocol for treating bird injuries in India. "Veterinarians often do not attempt to suture bird wounds as they are so minute. But this invariably renders the healed bird unable to fly. Our kabootarbaaz neighbour has always stitched broken wings with regular needle and thread with good results. So we researched international protocols, and began stitching broken wings with soluble sutures," explains Saud who does most of the surgeries in Wildlife Rescue today. With a success rate of about 80 per cent, the brothers receive injured birds rescued by different NGOs such as Friendicoes and Wildlife SOS.
Wildlife Rescue's 24-hour helpline receives at least 15 calls a day and children in Wazirabad village (where they now have a larger rescue centre) routinely bring in not just birds, but also other animals. Shahzad has remained Delhi's honorary wildlife warden for three years and was appointed special officer of Wildlife Crime Control Bureau in 2013. The brothers also received awards from animal conservation organisations, India for Animals and Nature Forever Society in 2014. Saud takes me to their rooftop facility where almost a hundred kites, eagles, vultures and owls are recovering. The gamey odour of raw meat fills the air. Some have bandages on, labelled with dates. Saud shows me neatly stitched wings and cuts on several of his patients. "They'll soon be able to fly," says he, stroking them gently.
Then he soberly picks up a vulture with a broken wing. "It came too late for us to repair the wing," says Saud, "I'll have to amputate it today." They have started doing bone implants and want to also learn micro-surgery, which will minimise the need for amputation, Saud adds. In the basement, a nursery of frisky egret chicks is ensconced in cartons. "They were orphaned when the tree that housed their nests was cut down in Gurgaon. Over 80 chicks died before they could be rescued; merely 20 remain.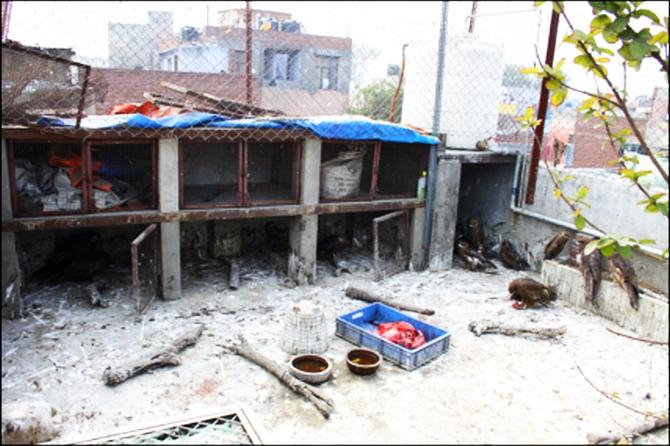 The brothers' rooftop facility. Photograph: wildliferescuedelhi
We'll rear them until they're old enough to be set free," he says.
Operating the avian hospital costs about Rs 35,000 per month, mostly for food and medicines. The brothers also employ a person to attend to rescue calls on the helpline. Although they still haven't received any aid, the two brothers dream of setting up a full-fledged bird hospital of international standards by diverting funds from their jointly-run family business of manufacturing bathroom fixtures. The next morning, I learn that the vulture didn't survive the surgery. It must be disheartening, I say to Shahzad, looking after birds that the rest of the city seems to have forgotten. "On the contrary," he says, "It is an act of faith to ease the last days of even a half-dead vulture with a broken wing. If we don't do it, who will?"