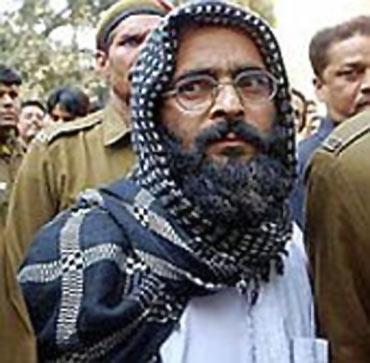 In remarks that could fuel a controversy, Congress MP Shashi Tharoor on Monday said Parliament attack convict Afzal Guru's hanging was both "wrong and badly handled".
"I think the hanging was both wrong and badly handled. Family should have been warned, given a last meeting and body returned," Tharoor said on Twitter responding to a remark on the issue.
Guru was hanged on February 9, 2013 inside Tihar jail.
Separatist groups in Kashmir have called a strike on Monday and on February 11 to mark the death anniversaries of Guru and Jammu Kashmir Liberation Front founder Mohammad Maqbool Bhat respectively.
Hardline Hurriyat Conference and JKLF have called for the general strike and announced a dharna on the two days.
A controversy had erupted soon after Guru's hanging over the purported communication from the Centre to his family which alleged that they had come to know about his execution from TV channels and Jammu and Kashmir government.
While the Centre had then claimed that it sent a communication through speedpost, the family had raised questions as to whether there was a serious effort to inform the family.
The then Jammu and Kashmir Chief Minister Omar Abdullah had also questioned the rationale of informing Guru's family through post saying the reliability of the medium itself was questionable.
Tharoor's statement comes after five Jammu and Kashmir lawmakers from Congress called Guru's hanging a 'mistake'.
The Congress MLAs, a fortnight back, had said in a statement that not allowing his family to meet Guru was a mistake.
The media reported that this was done apparently to secure the last vote to secure a Rajya Sabha seat for senior party leader Ghulam Nabi Azad, who is the Leader of Opposition in the Upper House of Parliament.
Opposition Peoples Democratic Party in Jammu and Kashmir has slammed Congress for making a 'U turn' on Guru hanging issue.
© Copyright 2021 PTI. All rights reserved. Republication or redistribution of PTI content, including by framing or similar means, is expressly prohibited without the prior written consent.