Stalin gets a new title...
Illustration: Dominic Xavier/Rediff.com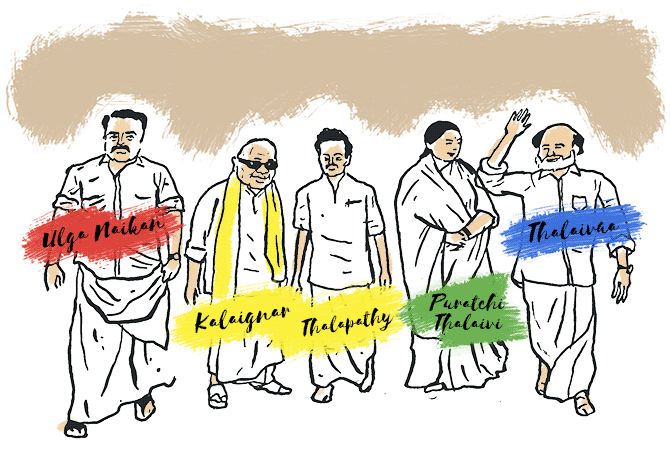 Tamil Nadu politics today welcomed its Thalapathy, the Commander.
DMK leader M K Stalin's new moniker, in keeping with his elevated status as the party's new president, signals the advent of another star in the state's political firmament.
There's baptism by fire, of course, that most Tamil Nadu politicians and heroes have to undergo.
And then there's the actual baptism when they ascend to the top.
So if Stalin was hailed as Thalapathy after he was unanimously elected party president, his father, the late DMK patriarch M Karunanidhi, was Kalaignar, the scholar of the arts.
Kalaignar, Thalapathy, Puratchi Thalaivar, Thalaivar or simply Captain, people in Tamil Nadu make sure to give titles to their most idolised stars, whether in politics or cinema.
Karunanidhi's title was derived from his contribution to Tamil films,
The former chief minister, who also donned the hat of a script writer during his early political career, was known for his powerful dialogues.
Kalaignar, who passed away last month at the age of 94, wrote his last script when he was 90. It was for a television serial based on the life of 11th century reformer-saint Ramanuja, a crusader for an egalitarian society.
Then there was the late M G Ramachandran, the actor-politician who was revered as Puratchi Thalaivar (revolutionary leader) and Makkal Thilagam (people's king).
His protegee J Jayalalithaa, who also entered politics through films and was chief minister multiple times, took on the title Puratchi Thalaivi.
There are many others.
Former leading actor Vijay Kant, the founder of DMDK, is known as Captain and a few years ago launched a television channel by that name.
Superstar Rajnikanth is Thalaivaa (leader) for his legions of fans.
And his rival Kamal Hassan, who early this year launched his political party Makkal Needhi Maiam, has been christened Ulga Naikan (universal hero) by his fans and supporters.
Coming to names with a difference, there's Viduthalai Virumbi (lover of freedom), a former DMK leader in the Rajya Sabha, and Tamilkudimagan (Tamil citizen), a former DMK minister.
The new DMK chief got his name as he was born on a day in March 1953 when his father Karunanidhi was attending a condolence meeting for Russian Communist party leader Josef Stalin.
Alagiri, Stalin's elder brother, is also called Anja Nenjan, which translates to brave heart.