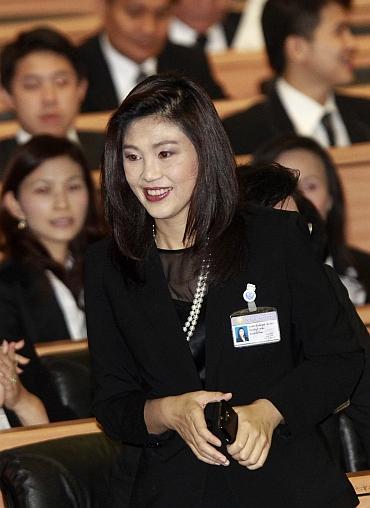 Yingluck Shinawatra, who rode to election victory on her promise of achieving national reconciliation in Thailand after five years of political turmoil, was on Friday formally chosen by the parliament as the first woman prime minister of the country.
The sister of fugitive former premier Thakshin, Yingluck in her new capacity would face the immediate challenge of bringing stability to the politically divided kingdom.
Forty-four-year-old Yingluck won a parliamentary vote to become the prime minister with the support of 296 members in the House of Representatives, the lower house which has a total strength of 500. Her confirmation as the 28th prime minister of Thailand came a month after her Phea Thai party crushed the ruling Democrats at the hustings.
"Yingluck gained more than half of the votes, therefore I declare that Yingluck has been voted in as the new prime minister by members of the House of Representatives," Speaker Somsak Kiatsuranont said.
"I am excited to start work," the businesswoman-turned-politician said after the vote. "People will judge whether my work satisfies them and meets their expectations or not."
Somsak said the result of Friday's voting would be handed to the King for royal appointment. Until then, Yingluck remains prime minister-elect.
A total of 296 members of Parliament voted in support of Yingluck, while three MPs voted against her, with 197 abstentions -- including Yingluck, the House speaker, one of his deputies and the main opposition parties, the Democrat and Bhumjaithai parties.
She was the only candidate. The opposition did not nominate a candidate for the top job.

Image: Yingluck Shinawatra of the Puea Thai Party is as the country's 28th prime minister | Photograph: Chaiwat Subprasom /Reuters