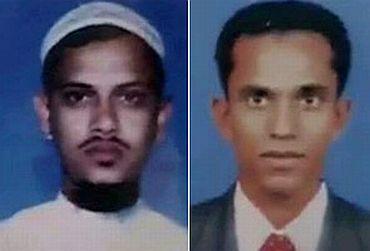 The news about the entry of two foreign nationals in to the city that has prompted the government agencies to issue high alert will not participate in any terrorist attack themselves. According to sources in the Mumbai police, who have been tipped off by the Intellegience Bureau, Kalimuddin Khan alias Rameshwar Pandit and Hafeez Sharif are here to activate the sleeper cells to engineer a terror attack.

Incidentally the German Bakery bomb blast was carried out by one of the sleeper cells whose members have been recently arrested by the Mumbai ATS. The terrorist attack will be undertaken by the sleeper cells whereas the two foreigners would be coordinating with one or more sleeper cells to orchestrate the attack. The aim of the terror attack is to create tension and conflict between the communities. "Besides the two foreigners, the public at large should also keep an eye on suspicious people and objects," said a senior police officer.  Meanwhile following the alert the police have upped its presence at the crowd pulling Ganesh mandals including the famed Labaugcha Raja, Siddhivinayak Temple and other mandals at Goregoan, Andheri and Chembur in Mumbai.
During the investigation into the 26/11 terrorist attack, the Maharashtra ATS uncovered that there were about 20 sleeper cells in the state, some of which had taken part in the Mumbai attack or were awaiting orders. During the 26/11 investigation the police on the trail of one such sleeper cell found cache of AK-47 rifle ammunitions at a village near Shekadi. Shekadi was the same place where the RDX used in 1993 blasts had landed.
The sleeper cells in the state and elsewhere have been labeled as the Indian Mujhahideen, however they are ready to work for any terrorist outfit including the Harkat-Ul-Jihadi Islamiya or the Lashkar-e-Tayiba that would provide them with the funds and logistics for carrying out the task.

Image: Sketches of the two suspected terrorists.