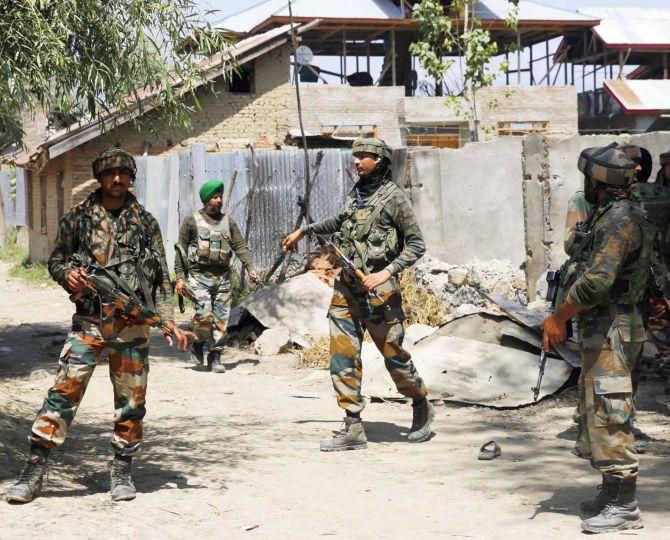 Photograph: Umar Ganie / Rediff.com
Terrorists have abducted seven relatives of policemen from various places in south Kashmir, officials said on Friday.
Police did not immediately gave any official statement and said they were trying to ascertain reports of abductions.
However, officials privy to the development, said that at least seven people, whose family members were working in the Jammu and Kashmir Police, have been picked up by terrorists on Thursday last night from Shopian, Kulgam, Anantnag and Awantipora.
The terrorists ' action came on a day when the National Investigation Agency arrested the second son of globally wanted terrorist Syed Salahuddin.
Terrorists kidnapped the nephew of a deputy superintendent of police from Trenz area in Shopian district, a police official said.
Adnan Ahmad Shah, 26, was abducted by terroristsfrom his home late Thursday night, the official said.
In another incident, son of a police officer was kidnapped by the ultras from his home in Wathoo village of Shopian, he said.
Yasir Bhat, whose father is presently in Hajj pilgrimage, was also kidnapped.
The official did not divulge the details of other abductions.
Terrorists also threatened to set afire the family home of a constable at Berthipora in Shopian, he added.
In a related development, kin of a policeman, who was abducted from Ganderbal district in central Kashmir, was released after being mercilessly beaten up by terrorists.