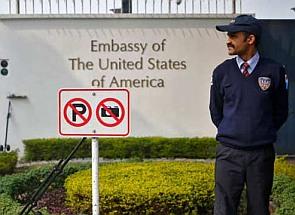 The National Investigation Agency has taken over the probe into the case of alleged hatching of a plot by Pakistan-based terror group to carry out suicide attacks on the US and Israeli consulates in South India.
The probe was handed over to the NIA by the Tamil Nadu Police so that the complete conspiracy hatched overseas, including in Sri Lanka and Malaysia, could be unravelled, official sources said in New Delhi.
Besides these two countries, a probe would also be carried out in Maldives from where the suicide attackers were supposed to take a boat ride to reach a coast in Kerala, the sources said.
In a related development, Interpol has issued a Red Corner Notice against Mohamed Hussain Mohamed Sulaiman, another accused arrested in Malaysia in connection with the hatching of this conspiracy.

47-year-old Sulaiman is wanted in India for alleged hatching of "criminal conspiracy, acts done by several persons in furtherance of common intention, possession of forged or counterfeit currency-notes or bank-notes, terrorist act and raising funds for terrorist act".
India has already approached the Malaysian authorities for extraditing Sulaiman to find out other details of the terror plot and also the identity of the two suicide attackers who were supposed to set sail from Maldives.
The terror plot was foiled by an effective coordination of Intelligence Bureau with foreign countries as Malaysia tipped the central agency about an alleged conspiracy being hatched from Sri Lanka about carrying an attack on US and Israeli consulates in Chennai and Bangalore.

According to the sources, Sulaiman told Malaysian Police that he had received instructions also to assist two men in the attacks on the US and Israeli consulates in Chennai and Bangalore.

After further probe, the central security agency found alleged involvement of a Sri Lankan national Sakir Hussain who was arrested with the help of Tamil Nadu Police on April 29.

Malaysia had stumbled upon the case when its Special Unit was probing money laundering and human trafficking cases. Hussain was alleged to be talking to ISI officers and planning to carry out terror strikes on the two consulates.
Hussain named Colombo-based Pakistan High Commission's Visa Consular Amir Zubair Siddiqui as his handler, a charge denied by Pakistan.
According to the plan, Hussain reportedly told interrogators that the ISI planned to carry out terror strike on the two consulates,the sources claimed.
The reason for ISI to pick him up, according to Hussain, was that he had expertise in human trafficking, making of forged passports and smuggling of fake Indian currency.
Pictures of US and Israeli consulates showing various gates and roads leading to the two premises were recovered from his laptop, the sources said, and claimed that these pictures had been mailed to his alleged handlers in Pakistan and its High Commission in Colombo.
Cyber signatures showed that the pictures were downloaded at a computer within the premises of Pakistan High Commission at Colombo and were shared with Sri Lankan authorities, the sources claimed.
The role of an Pakistani High Commission official in Colombo had figured earlier in 2012-13 also when central security agencies picked up Tameem Ansari, a frequent flier from Trichy to Colombo. Ansari was arrested after six months of surveillance in 2012.