Mohammad Naved Yakub Naved, the Lashkar-e-Tayiba terrorist who was captured alive after the attack on the BSF convoy in Udhampur, has been giving his interrogators vital information on how the terror industry thrives in parts of Pakistan.
India is getting ready to slam Pakistan with the details given by Naved during the National Security Advisor-level talks scheduled for Sunday in New Delhi.
Here are 10 chilling details Naved has reportedly gave: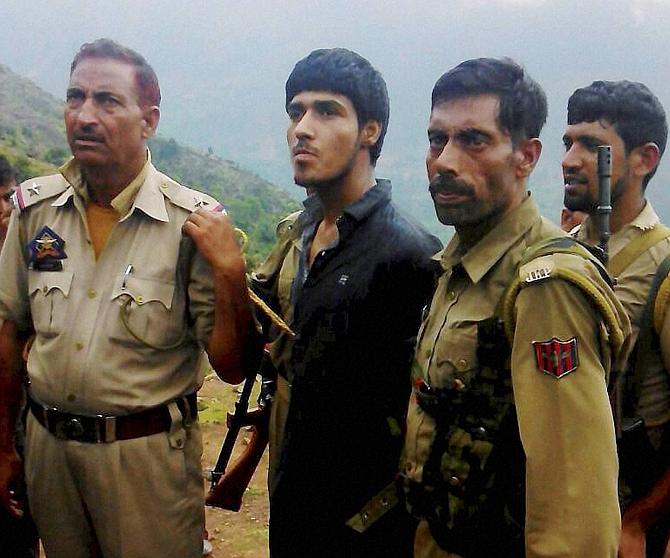 * 26/11 attacks mastermind Hafeez Mohammad Saeed visited the Lashkar-e-Tayiba's Shavai Nallah training camp twice while he was undergoing training there. The Lashkar chief delivered motivational speeches to the recruits and urged young recruits to be "Allah ke bande" and embrace martyrdom.
* Some "Pakistan military types" visited the camp to give "tips on fighting the jihad".
* In a very typical manner of Lashkar, he was shown videos of atrocities committed on his Muslim brethren in India, particularly in Kashmir. He attended three courses -- the first in physical fitness, the second in handling weapons and the last on carrying out a suicide attack.
* He was to serve with the organisation's South Kashmir commander who operates using the code name Qasim Khan.
* During his training in the LeT camp, there were around 180 other boys in the first course. But the number dwindled to 40 to 50 for the next two rounds of training.
* Hafiz's son, Talha Sayeed saw them off in Pakistan-occupied Kashmir before they crossed over to Kashmir in June. Talha Sayeed is said to be the main operative, who is now in-charge of the Lashkar training camps and launch pads in the PoK.
* A maulvi Bashir at a Faisalbad mosque brainwashed Naved to do something meaningful in his life and then introduced him to a Lashkar recruiter. He was offered Rs 50,000, but claims that the money never reached him. The money was kept by his handler who assured to pay him once he completed the task.
* He was administered a psychotropic substance before the attack on the BSF convoy in Udhampur's Narsu Nallah area. The logic -- the drug helps staying calm and focused, enabling them to carry out a long haul.
* Nearly a month before the Udhampur attack, Naved was tasked to execute a similar attack on a security convoy on the bypass near Jammu but he chickened out after reaching the spot. It is believed that LeT senior commander in J&K, Doujana, had accompanied Naveed and another attacker to Jammu for the attack which was not carried ou
* He hails from Rafiq Colony in Faisalabad, Pakistan. His father's name is Mohammad Yakub and that he has two brothers, one a college lecturer, the other a businessman.