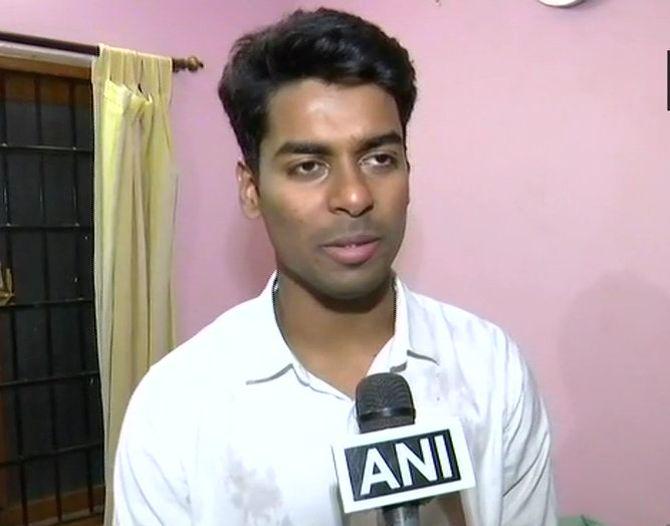 Indian Revenue Service officer Durishetty Anudeep has topped the coveted civil services 2017 examination whose results were announced on Friday, breaking a three-year streak of female candidates bagging the top spot.
Anu Kumari and Sachin Gupta stood second and third respectively, the Union Public Service Commission announced on Friday.
Anudeep, an OBC candidate from Metpally in Telangana, is posted in Hyderabad as an assistant commissioner.
A total of 990 candidates -- 750 men and 240 women -- have been recommended by the Commission for appointment to various central government services, UPSC said in a statement in New Delhi.
Of the candidates recommended for appointment, 476 are from the general category, 275 from OBC, 165 from scheduled caste and 74 from scheduled tribes category.
"The recommended candidates also include 29 physically disabled persons (9 orthopedically handicapped; 8 visually challenged and 12 hearing impaired)," it said.
Saumya Sharma, a physically disabled candidate, with hearing impairment, secured an overall ninth rank, the UPSC said.
An officer of IRS (Customs and Central Excise) of 2014 batch, Anudeep qualified the examination with anthropology as his optional subject.
Anudeep has graduated with BE (Electronics & Instrumentation) degree from BITS, Pilani.
Anu Kumari, the topper among the female candidates, has graduated with BSc (Hons) in Physics from the Delhi University and has done an MBA (Finance and Marketing) from IMT, Nagpur.
Nandini K R, Tina Dabi and Ira Singhal had topped the civil services examination 2016, 2015 and 2014, respectively.
A total of 1058 vacancies were to be filled through Civil Services Examination, 2017, which included 29 vacancies for physically handicapped candidates, the statement said.
"Result of two candidates has been withheld," it said.
Among the top 25 candidates, there 17 men and 8 women, it said.
"The Civil Services (Preliminary) Examination, 2017 was conducted on June 18, 2017. 9,57,590 candidates applied for this examination, out of which 4,56,625 candidates actually appeared. 13,366 candidates qualified for appearance in the written (Mains) examination held in October-November, 2017.
"Of them, 2,568 candidates qualified for the Personality Test conducted in February-April, 2018," it said.