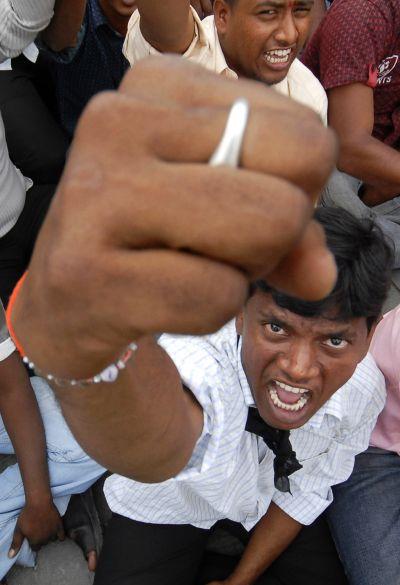 Andhra Pradesh, which has lately been a hotbed of activity following the decision on Telangana will continue to see more drama in the days to come. Chief Minister Kiran Kumar Reddy appears to have made his peace with the decision to bifurcate the state, but is weighing his options heavily in order to launch a new party. Vicky Nanjappa reports.
He appears to be adamant and has decided to get out of the Congress once the Telangana Bill reaches the assembly for an opinion. While the Bill will be defeated in the assembly as the Seema-Andhra members of Legislative Assembly outnumber the ones from Telangana, the problem ahead would be a political crisis.
Reddy, who has been opposing the formation of Telangana since day one, has been accused of adding fuel to the fire which led to such a heavy agitation. Apart from playing the wait and watch game, he has been in touch with various leaders from the Seema-Andhra region and the employees unions of the region.
They have decided to float a new party after the bill is defeated as they feel that staying on in the Congress has no meaning if the state is bifurcated as no one from the Seema-Andhra region would vote in their favour.
They have even decided to call the new outfit as the Seema-Andhra party and it is likely to be launched in December.
The Congress high command however senses this and may slow down the formation process. It would not want the party to split further ahead of the elections and realises that by slowing down the process it could avoid an embarrassment in the state.
The Congress has been already facing the brunt after TSR Congress chief Jagan Mohan Reddy quit the party. He, in fact, has become the strongest contender in the Seema-Andhra region.
If the CM walks out too, then it would only mean that the problems for the party increase in the region. The people of Seema-Andhra would go with any party or person who stands firm against the bifurcation of the state.
Reddy and his men feel that they should wait till the bill is defeated in the assembly and then go ahead with the new party. They would have a ready made agenda then and this they feel would better their prospects during the elections.
The Group of Ministers who would meet on Friday to discuss the Telangana situation are most likely to drag the process leading up to the formation of the state. They find the need to keep all three regions happy and would try and delay the formation. The Congress is however firm on the bifurcation and it is only the timing that they need to decide on.