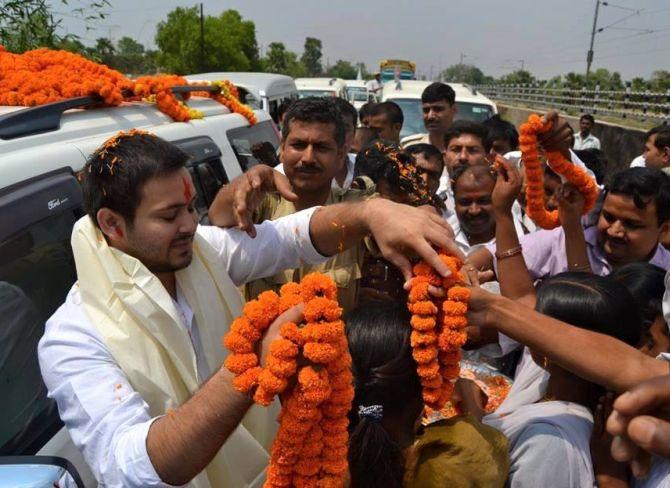 Rahstriya Janata Dal leader Tejashwi Yadav on Friday said Rashtriya Lok Samata Party chief Upendra Kushwaha had no place in the National Democratic Alliance and hinted that the Union minister would be welcomed if he chose to switch sides and join the RJD-led grand alliance in Bihar.
"It has been evident that Kushwaha has no place in the NDA, of which his party is a constituent. He has been ploughing a lonely furrow on a number of issues," Yadav, the RJD heir apparent, told reporters in Patna.
Asked whether the RJD would accept Kushwaha's RLSP into the Grand Alliance of which RJD is the largest partner, Yadav said, "It is for him to take a decision. If he wishes to come with us, we will think over the matter."
"He organised a state-wide human chain a few months ago on the issue of educational reforms which his alliance partners sneered at. It was our party which supported him on that occasion as we agreed with his cause," Yadav said.
Kushwaha was absent at a get-together of the NDA in Patna on Thursday night and his party demanded that the next Lok Sabha and assembly polls be fought under his leadership.
The Union Minister of State for Human Resource Development, however, sought to downplay his absence today, saying it was because of some "personal reasons" and asserted that the coalition was intact.
At present, Kushwaha is engaged in a campaign demanding representation of all sections of the society in higher judiciary, Yadav said.
This cause is also supported by the RJD but, it appears, none of his coalition partners does, said Yadav who is the leader of the opposition in the state assembly.
The RLSP has been viewing with consternation the assertion by Chief Minister Nitish Kumar's Janata Dal-United that it was the main party in the NDA in Bihar, a clear hint that it wanted the largest number of seats among the constituents of the BJP-led coalition in the 2019 Lok Sabha polls.
Yadav's comments came a few hours after former Chief Minister and Hindustani Awam Morcha president Jitan Ram Manjhi urged Kushwaha to quit the NDA and join the grand alliance.
Manjhi, who was himself with the NDA until a few months ago, joined the RJD-Congress combine in March. Despite being the sole MLA of his party, Manjhi got his son elected to the state legislative council with help from the RJD.
The HAM leader, however, made it clear that Kushwaha 'must give up his ambition to be projected as the leader of the coalition since grand alliance has already decided that if it wins power in Bihar, Tejashwi Yadav would be the chief minister'.