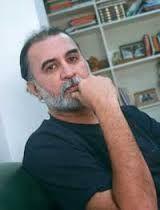 A special investigation team of Goa police on Saturday questioned Tehelka Managing Editor Shoma Chaudhary and other employees of the magazine and recorded their statements in connection with the charge against its editor Tarun Tejpal of raping a woman colleague.
Sources said a three-member team of Goa police, led by Deputy Superintendent of Police Sammy Tavares, went to the magazine's office in south Delhi at around 4.45 pm. They questioned Chaudhary and other employees of Tehelka.
Later, the team, which also includes Sunita Sawant, the investigating officer in the case, recorded the statements of Chaudhary and the other Tehelka employees.
A team of Delhi police, including Additional Commissioner of Police, Crime, Ravindra Yadav, was also present at the Tehelka office at the time of the questioning to provide logistical support to Goa police.
The Goa police crime branch team, which arrived in Delhi at noon, is trying to collect e-mails of Tejpal in connection with the incident and the complaint of the girl, following which the editor is likely to be questioned, a police official said.
A First Information Report has been filed against Tejpal, booking him on rape and other charges.
In Panaji, Goa Police Deputy Inspector General O P Mishra said they have been told that there are no CCTV cameras in the elevator of the hotel, where the woman journalist was allegedly sexually assaulted by Tejpal.
"The hotel authorities have told us that they have no specific cameras in the elevator. We are getting a detailed layout of cameras (from other areas) from the hotel and making a detailed analysis," Mishra told reporters.
He said CCTV footage has been received from the hotel but could not be immediately examined because of technical and logistical reasons.
The DIG said the police have sought detailed documents from Tehelka Managing Editor Shoma Chowdhary.
According to a statement by the victim, circulated to TV channels, a member of Tejpal's immediate family came to her mother's house in New Delhi and asked her (mother) to "protect Mr Tejpal and demanded to know (1) who I was seeking legal help from and (2) what I wanted as the result of my complaint of sexual molestation by Mr Tejpal".
"This visit has placed tremendous emotional pressure on my family and me at an intensely traumatic time. I fear this may be the beginning of a period of further intimidation and harassment," said the statement, adding, "I call upon all persons connected to Mr Tejpal and his associates to refrain from approaching me or my family members".
The Goa police team will also try to meet the victim and get a statement from her, the official said.