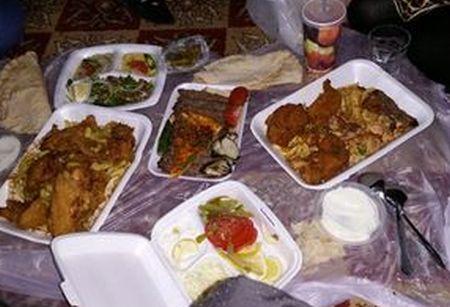 One of the schoolgirls who had disappeared from her home in Britain to travel to Syria has tweeted a picture that appears to confirm she has joined terror group Islamic State.
Amira Abase, 15, Shamima Begum,15, and Kadiza Sultana, 16, have been missing for more than two months and are believed to be in the city of Raqqa.
Amira and her friends paid in cash for flights to Istanbul before travelling by land and crossing the Syrian border in February and are thought to have joined Sharmeena who travelled to join IS in December last.
The picture, posted by Amira earlier this month, shows a huge take-out feast, including fried chicken, flatbread, chips, pizza, kebab and a soft drink. She described the meal as 'dawla takeaway'.
Dawla is a term often used to refer to IS-controlled territory.
In the picture, she shared the meal with a 16-year-old girl who calls herself Um Ayoub, who wrote: "Wanna behead some kafirs [non-Muslims] now, The Sunday Times reported.
Amira has tweeted for the first time since British police put out an international alert in an effort to stop her entering the war zone.
Amira's Twitter account had been private, but she appears to have recently made it accessible to general users. It is the only photograph tweeted by Amira since she left Britain.
The teenagers, who attended BethnalGreenAcademy in east London, are expected to marry foreign fighters in Syria.
Image: The photograph that Amira put up on Twitter timeline with the caption 'Wanna behead some kafirs [non-Muslims] now'.