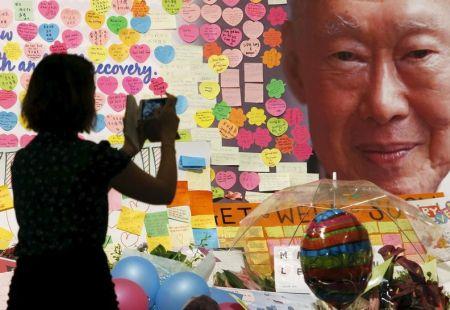 A 16-year-old Singaporean school dropout was on Tuesday charged with obscenity and hurting religious sentiments over an expletive-laden video attacking the country's founding father Lee Kuan Yew and Christianity.
Amos Lee, who was arrested over posting the eight-minute video on YouTube on Sunday -- the same day when Lee's state funeral was held, smirked as multiple charges were read out in the State Court against him.
The teenager has asked for a lawyer to represent him against the charges, one of which referred to online posting against Christians and comparing Singapore's first PM, the late Lee, to Jesus Christ.
He faces three years in jail if proved guilty.
The court heard that Amos had on Friday created and uploaded a video containing insensitive remarks against Christianity, with deliberate intention to wound religious feelings.
His video also referred to Christians as "power hungry and malicious but deceive others into thinking that they are compassionate and kind", as reported by Today newspaper.
The video, which also insulted Lee, was created in Amos' home and disseminated intentionally, the court heard.
The clip, called 'Lee Kuan Yew Is Finally Dead!', had been viewed more than 600,000 times by Sunday, according to The Straits Times.
In the video, Amos also challenged Prime Minister Lee Hsien Loong the eldest son of Lee, who died on March 23 aged 91, to sue him.
The video has since been taken off the website.
On Saturday, Amos also posted obscene images of the late Lee and late United Kingdom Prime Minister Margaret Thatcher, the court heard.
He was charged today with three offenses -- two for insulting Christianity and the late statesman, and another for allegedly transmitting online an "obscene representation," according to court documents.
The court also granted him a bail amount set at 20,000 Singapore dollars, under the condition that he will not post, upload or otherwise distribute any comment or content, whether directly or indirectly, to any social media or online service or website, while the current case against him is ongoing.
More than 20 police reports have since been made against the teen within three days since the video was posted on Friday, said a police spokesperson.
Speaking to reporters outside the court, Amos' father said: "I would like to take this opportunity to say very sorry to PM Lee."