Texas Senator Ted Cruz was booed during the ongoing Republican National Convention in Cleveland, Ohio after he did not endorse Donald Trump as the party's presidential nominee and asked Americans to "vote your conscience" in the November election.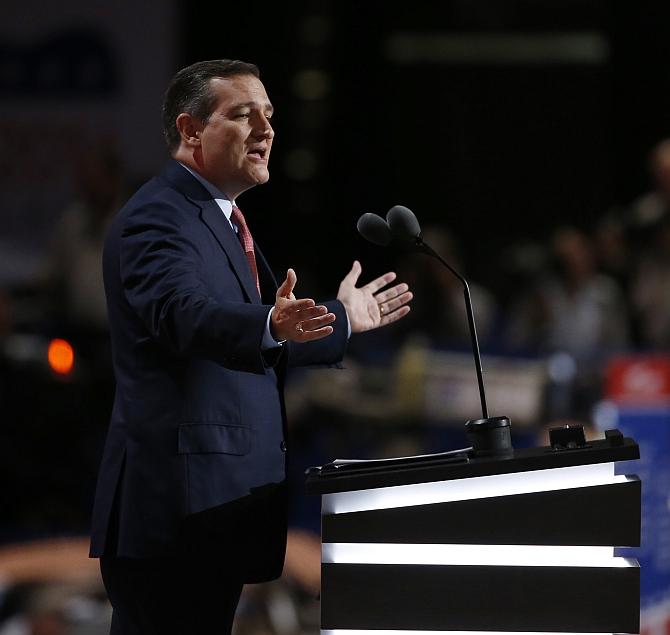 IMAGE: exas Senator Ted Cruz speaks at the Republican National Convention in Cleveland. Photograph: Mario Anzuoni/Reuters
Cruz only went as far as congratulating Trump, who was his bitter rival in the primary contests.
This resulted in booing of Cruz by Trump supporters as millions of Americans and people globally saw bringing to the fore the divide in the Republican party.
"We deserve leaders who stand for principle. Unite us all behind shared values. Cast aside anger for love. That is the standard we should expect, from everybody," Cruz said in his 20-minute speech as he set his standard for the next US president.
"And to those listening, please, don't stay home in November. Stand, and speak, and vote your conscience, vote for candidates up and down the ticket who you trust to defend our freedom and to be faithful to the Constitution," Cruz said stunning the entire Republican delegation.
As the party delegation and Trump supporters realised the embarrassment coming from a friend-turned-foe, they started booing Cruz, the loudest booing coming from the New York delegation.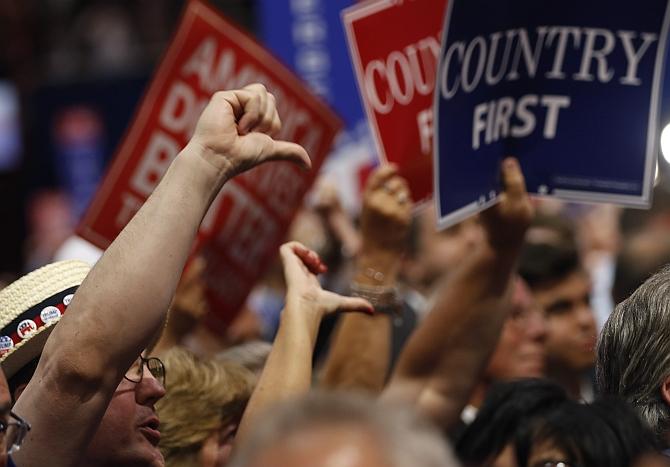 IMAGE: Delegates give thumbs down to the speech of former Republican US presidential candidate Senator Ted Cruz. Photograph: Jonathan Ernst/Reuters
"I understand the enthusiasm coming from the New York delegation," Cruz said, as Trump supporters continued to boo.
As Cruz was concluding his speech, Trump entered the Quicken Loan Arena, with television cameras showing him smiling and giving a thumbs up to the crowd.
Less than an hour later, the former House Speaker Newt Gingrich said that Trump is the only candidate to meet the standards set by Cruz.
Gingrich said Trump invited all his primary rivals to address the convention without the condition of endorsing him.
"With no requirement for endorsement, he encouraged his competitors to speak once again. Governor Rick Perry, Governor Chris Christie, Governor Scott Walker, Dr Ben Carson, Senator Marco Rubio and Senator Ted Cruz have all responded to Donald Trump's generosity," he said.
"Now, I think you misunderstood one paragraph that Ted Cruz, who was a superb orator, said. And I just want to point it out to you. Ted Cruz said you can vote your conscience for anyone who will uphold the Constitution. In this election, there is only one candidate who will uphold the Constitution," Gingrich said.
"So, to paraphrase Ted Cruz, if you want to protect the Constitution of the United States, the only possible candidate this fall is the Trump-Pence Republican ticket. That way, we have a Republican ticket to implement Republican principles in Washington," said the former Speaker of the US House of Representatives.