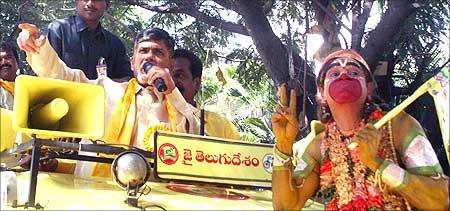 The stage is set for the Telugu Desam Party's (TDP) much-publicised mega event, 'Yuva Garjana', to be held on the National Highway between Vijaywada and Guntur on Wednesday.
The sprawling 140-acre venue near the Nagarjuna University Campus is gaily decorated, with Plaster-of-Paris lions on either sides of the huge entrance arch welcoming visitors.
The sons and grandsons of TDP founder and matinee idol N T Rama Rao, all of whom are popular Telugu actors, are expected to draw in huge crowds for the event.
TDP supremo and former Chief Minister Chandrababu Naidu hopes that the event will help in countering the growing popularity of Telugu superstar Chiranjeevi's Praja Rajyam party.
Twenty-two special trains, 1,000 buses, 20,000 cars and one lakh two-wheelers are expected to bring in an estimated one million people to the event.
The entire 20-km stretch of the National Highway between Vijayawada and the venue and the 15 km road between Guntur and the venue have turned yellow with TDP flags, banners and arches.
Three aircraft have been hired to rain petals when the event is in progress.
Political observers say it remains to be seen whether the attempt to resurrect the image and revive the glory of TDP will succeed.
Image: TDP leader Chandrababu Naidu flags off the motor cycle rally to the Yuva Garjana in Hyderabad on Tuesday.    
© Copyright 2020 PTI. All rights reserved. Republication or redistribution of PTI content, including by framing or similar means, is expressly prohibited without the prior written consent.