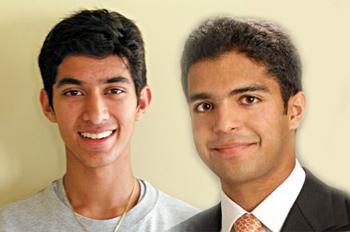 Tavish Nanda, who recently graduated from Monte Vista High School in Alamo, California, and Hemant Gandhi, a recent graduate of Okemos High School in Okemos, Michigan, were named to the 13th class of Toyota Community Scholars.
Tavish, author of the fantasy book Cren and the War of Seven Days, and Hemant, founder of the climate change awareness Web site CarbonNeutralVolunteers.org, were among the 12 national winners of the scholars program selected from 100 regional winners.
The regional winners included recent graduates Preeya Goyal of the Great Oak High School, Temecula and Harleen Sethi of the Fred C Beyer High School, Modesto, both in California; Rohit Thummalapalli, this year's valedictorian from the American Heritage high school in Haileah, Florida; Sitara Weerasuriya of the Sherwood High School in Olney, Maryland; Anokhee Mepani of the Westwood High School in the Westwood, Massachusetts; Sujay Tyle of the Mendon High School in Pittsford, New York; Vinay Trivedi of the Princeton Day High School, Newton, Pennsylvania; and Aditya Kumar of the Stafford High School in Stafford, Texas. 
The national winners received $ 20,000 each in scholarship and the regional winners $ 10,000 each. Sponsors Toyota Motor Sales, USA, Inc, selected the winners from more than 8,000 students nationwide nominated by their schools. The judges were impressed with the many volunteer projects Tavish had participated in. His book also serves as a channel to raise money for local charities through various book signings and fundraisers, the TMS noted.   
Tavish aspires to be a cardiovascular surgeon. "I want to bring a specialty in medicine to those who need it most," he said, "to parts of the world where treatable conditions are common killers." He has volunteered at hospitals and cardiology units. Nanda is also the president of the Young Bohemians in Monte Vista, an organization that fosters creative potential and artistic expression among youth and is working on another novel.
Hemant Gandhi's web site is aimed at empowering individuals worldwide with the knowledge and opportunities to reduce their carbon footprint. CarbonNeutralVolunteers.org has raised $ 20,000 for solar ovens in Tanzania and solar water heaters at his high school and a hospital in Peru. Along with a group of dedicated volunteers, Hemant has sold hundreds of CFL bulbs during door-to-door drives and is on a mission to make Okemos the first volunteer carbon-neutral high school in the world, the TMS said.
Having represented CNV at several global events, the varsity tennis player was also involved with his high school newspaper and is a Dale Carnegie Highest Achievement Award recipient. "A core believer in volunteerism and community action, I want to nurture a new generation of climate leaders," Gandhi said.

Image: Tavish Nanda (left) and Hemant Gandhi.