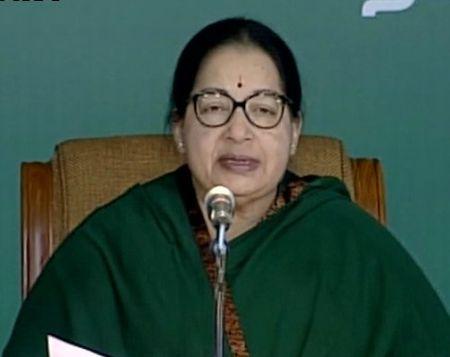 Seeking to turn the tables on the opposition which is promising prohibition if voted to power, All India Anna Dravida Munnetra Kazhagam supremo and Chief Minister Jayalalithaa on Saturday assured a dry law in Tamil Nadu in a staggered manner.
Launching a tirade against arch rival and Dravida Munnetra Kazhagam chief M Karunanidhi for supporting prohibition, she pointed out that he had relaxed the dry law in 1971 and was raking up the matter for poltical reasons.
"Listen voters, prohibition was launched in Salem in 1937 and was extended in a phased manner and on January 30 1948, total prohibtion was launched in TN," she said launching her party's election campaign at the Island grounds in Chennai.
Jayalalithaa noted that prohibition was relaxed in 1971 August by the Karunanidhi government.
Assuring implementation of prohibition in Tamil Nadu, where liquor sales fetches about Rs 30,000 crore revenue, she said "when AIADMK assumes power again, total prohibition will be implemented in a phased manner," drawing loud applause.
"Always, my policy is to implement total prohibition. However, this cannot be done through a single signature. This can be done only in a phased manner," she said.
Recalling that liquor was introduced in 1971 by DMK and was available in Tamil Nadu for generations, she said "that is why this cannot be done away with in a single day."
Assuring that it would be done in a staggered manner, she said that as a first step, working hours of liqour retail outlets would be reduced, followed by cutting down their numbers.
"As a first step, the timing of outlets and then their numbers will be cut down and later bars attached to retail outlets will be shut. Rehabilitation centres will be opened to treat liqour addicts and after taking all such measures, in a phased manner we will attain our goal of total prohibition," she said.
Jayalalithaa's assurance assumes significance as it comes against the backdrop of a sustained campaign by NGOs and persistent demand by Opposition parties, including DMK and Pattali Makkal Katchi, for a dry regime.
All opposition parties are on the same page on the issue and they have promised to bring in dry law if voted to power.
Citing Karunanidhi's statement in which he had said that "if AIADMK promises to bring prohibition, it will not be possible to believe it," Jayalalithaa sought to know why he had made such a claim.
She said people were aware that she would give an assurance only after analysing the issue. "That is why, fearing it, Karunanidhi has given such a statement."
Reeling out statistics, she said sale of liqour had jumped by 109 per cent during DMK rule (2010-11).
Beer sales had jumped from 1.32 crore cartons in AIADMK regime in 2005-06 to 2.86 crore in 2010-11. This year, it has come down to 2.31 crore."
"From this, it can be understood that it was the DMK regime that made the people drink more," she said.
Jayalalithaa targeted her arch rival DMK, saying the party had no locus standi to talk on the issue as it had introduced liqour in 1971. "hence DMK talking over it is like the Devil quoting the scriptures."
She recalled how veteran political leader and freedom fighter Rajaji tried to stop Karunanidhi who wanted to "make people alcohol addicts by lifting prohibition." She also said he had justified his action of relaxing the dry law.
"I want to bring in prohibtion," she said, adding the DMK government had in 1990 allowed country liqour. In 1991, when her party came to power, her first task had been to end cheap liqour by foregoing Rs 400 crore revenue.
Seeking a successive term for her party, she highlighted her government's performance so that "such remarkable, great achievements can be continued and many more new welfare schemes implemented."
© Copyright 2021 PTI. All rights reserved. Republication or redistribution of PTI content, including by framing or similar means, is expressly prohibited without the prior written consent.