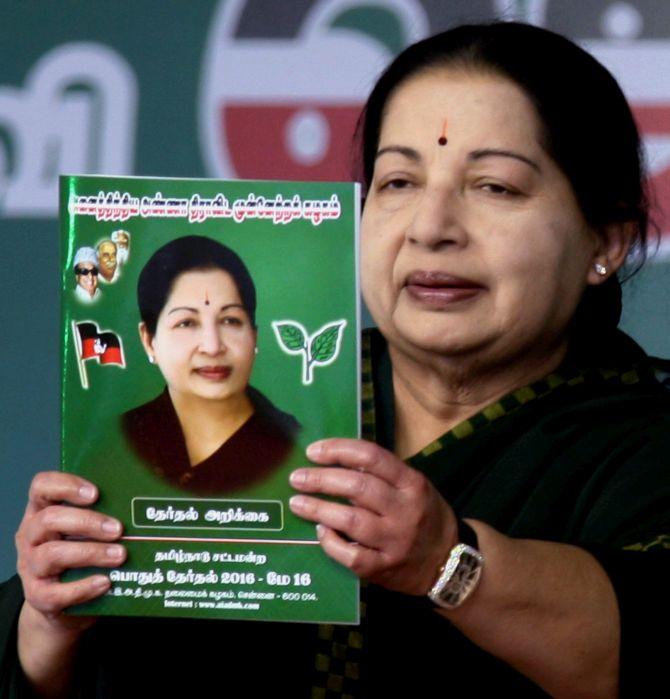 IMAGE: AIADMK head J Jayalalithaa unveils the manifesto at a public rally. Photograph: PTI
Ruling All India Anna Dravida Munnetra Kazhagam on Thursday promised a slew of freebies in its manifesto for the May 16 assembly elections, assuring mobile phone to all ration card holders, free 100 units of power and Wi-Fi in public places if it was voted to power for another term.
Strategically timed on a day when Congress president Sonia Gandhi was scheduled to address a poll rally along with ally and Dravida Munnetra Kazhagam president M Karunanidhi, the manifesto was unveiled by Jayalalithaa at a public rally, in a departure from usual practice of release at party headquarters in Chennai.
Highlighting key aspects of the much-awaited manifesto containing series of populist measures covering various sectors, she promised that her party, if voted again to power, will provide mobile phone to all ration card holders.
Steps will be taken to ensure employment to one member of each household through various programmes including vocational training, Jayalalithaa said.
She said her party-led government will provide 100 units of power to all households under the present consumption calculation method, saying it will benefit 78 lakh consumers "who need not pay electricity bills," if it came to effect.
"The free laptop scheme for students of Classes XI and XII will continue and free internet connection will be provided along with this," she said amidst loud cheers from the large gathering in Perundurai, a rural town in western Tamil Nadu.
Jayalalithaa promised to increase financial assistance under a maternity scheme from Rs 12,000 to Rs 18,000 and assured to double the quantum of gold for thali (mangal sutra) from the existing four gm.
Further, the party assured to give a Rs 500 coupon for people to buy handloom clothes from state-run co-optex during the harvest festival of Pongal.
Waiver of cooperative farm loans, creation of Amma Venture Capital Fund of Rs 500 crore to promote first generation entrepreneurs, a Rs 100 crore Amma Collateral Guarantee Fund to provide collateral-free loans to SMEs were some of the other promises made in the manifesto.
The manifesto also said the government will repay educational loans of persons who remain unemployed, and assured to provide 50 per cent subsidy for women to buy scooter or moped.
The party promised to provide 'Amma Banking Card' in association with banks and this can be used for all banking transactions and receive government services.
In the farm sector, AIADMK promised to give Rs 40,000 crore of crop loan for the 2016-21 five year period, and assured to expedite mechanisation of farming activities besides a host of other welfare measures including various subsidies.
Genetically-modified seeds will not be allowed in the state and nature farming will be encouraged, it said and reiterated its commitment against implementation of Coal Bed Methane and shale gas projects in the Cauvery delta area as well as the GAIL pipeline through farmlands in the state.
On the inter-state river disputes, the AIADMK manifesto promised to strive for 'complete implementation' of the 2007 final award of the Cauvery Tribunal while efforts will be taken to raise the water storage level at Mullaperiar in Kerala to 152 ft.
For fishermen, the party promised hiking the dole during fishing ban period to Rs 5,000, a separate housing scheme for them and retrieving the islet katchatheevu from Sri Lanka.
In the power sector, the party promised to add 18,500 MW of power from various sources in the next five years and assured that power infrastructure will be upgraded for proper distribution of electricity.
AIADMK also promised implementation of prohibition in a phased manner, besides establishment of Lokayukta, expanding the Metro Rail projects to other cities like Coimbatore, a series of projects in highways, infrastructure and a new granite policy.
Efforts by neighbouring states to "deny water" to Tamil Nadu will be countered through talks and by approaching the Supreme Court, the party said.
Various schemes aimed at mitigating price-rise, such as 'Amma Cement,' 'Amma Dispensaries' and free mineral water schemes will be upgraded and expanded.
A Dr BR Ambedkar Foundation will be established at a cost of Rs five crore to spread the ideals of the leader, it said while promising a series of welfare measures to SC/ST and minority community members.
Flagship schemes announced in the 2011 poll manifesto, like providing free milch animals, will continue, the party said.