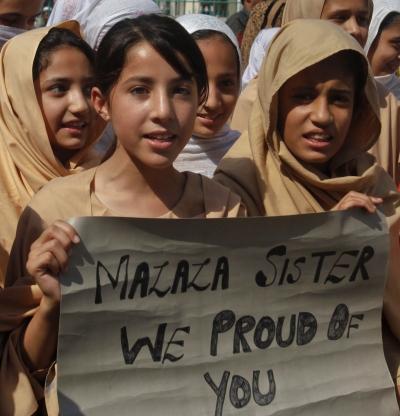 Security was tightened around a government girls' school in Rawalpindi after a letter allegedly sent by the Pakistani Taliban warned that it would be blown up if it is not shut down, a media report said on Monday.
The one-page handwritten letter was found on the premises of the building by school staff recently.
The letter, addressing the school administration, contained some sayings about the respect and status of women in Islam, Dawn daily quoted police sources as saying.
"It is a message from Ameer Sahib Abdul Wali of the Tehrik-i-Taliban Pakistan Mohmand Agency that the girls' school should be closed. Thank
God, we have been successful in every bomb attack and will be successful in future too. And we can carry out bomb attacks anytime," the note said.
Police presence has been increased around the building during school hours.
All educational institutes were closed till October 20 to mark Eid-ul-Azha. The letter was found before the weeklong holiday began.
A police officer said that the station commander and the chief executive of the cantonment board of the garrison city visited the school to inspect the security measures.
When asked about the authenticity of the letter, the police officer said it was yet to be determined. However, under current circumstances, the letter could not be taken lightly, the officer added.
"In the past, there had been no such threat to close any educational institution. However, some boys' schools had received telephonic threats," A senior police officer said.

Image: Students hold a placard during a rally to condemn the attack on schoolgirl Malala Yousufzai in Peshawar

Photograph: Fayaz Aziz/Reuters