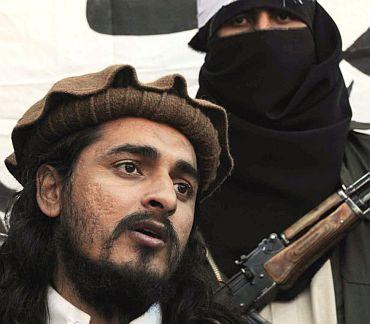 Tehreek-e-Taliban Pakistan chief chief Hakimullah Mehsud, who was killed in a Central Intelligence Agency-operated drone strike in the country's restive North Waziristan, was on Saturday buried at an unknown location, a media report said.
Hakimullah, his uncle, driver and other aides who fell prey to US drone attacks were buried at different places in the North Waziristan, Geo News reported.
According to the sources, TTP's Markazi Majlis-e-Shura (Central Advisory Committee) would appoint a new chief soon.
Umar Khalid, Maulana Fazlullah and Khan Said alias Sajna are under consideration for the top slot, the report said quoting sources.
There was no official word on the killing of Hakimullah.

Hakimullah's killing is the latest in a string of setbacks for the top leadership of Taliban and Al Qaeda, who have been repeatedly targeted by US drones in the tribal belt.
Pakistani and international media had reported Hakimullah's death several times in the past but he had surfaced after lying low for some time.

The drone strike came days after US Special Forces captured TTP deputy chief Latif Mehsud in Afghanistan. This was the second drone strike in two days. Three suspected
militants were killed in an attack on Thursday.

It was also the second drone strike since Prime Minister Nawaz Sharif visited the US last month.
Sharif had raised the issue of drone strikes during his meeting with President Barack Obama in Washington and demanded the US to halt the attacks.
The Taliban has been waging a bloody campaign against Pakistani forces and has carried out a series of bombings and suicide attacks that killed thousands across the country.
Hakimullah was first named Jamshed, but when he became the spokesperson for Baitullah Mehsud, the former TTP chief, he was known as Zulfiqar Ali.
After Baitullah was killed in a drone strike in August 2009, he became known by his birth name Hakimullah Mehsud and took over the reins of power, Express News reported.

He belonged to the Ishangi, the sub-tribe of Mehsud, and was the eldest of three brothers.
The TTP chief was fond of cricket and used to play the sport. His hobbies included speeding and firing, before and after he joined the TTP.