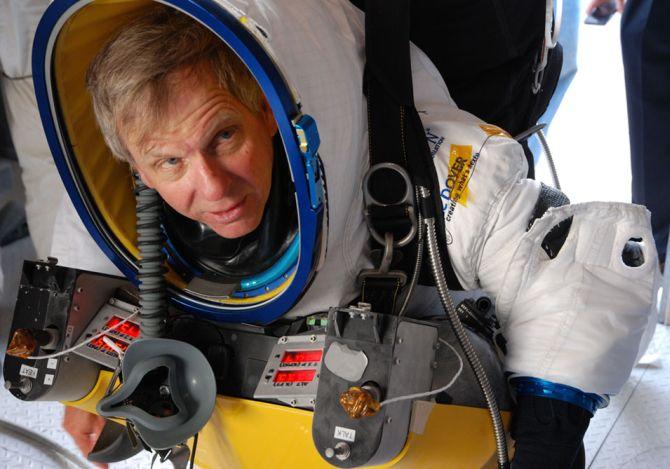 More than two years after Felix Baumgartner broke the world record for the highest skydive, Alan Eustace has trumped it by jumping a height of 135,890 feet from the Earth's surface.
A well-known computer scientist and a top executive at Google, he fell faster than the speed of sound and broke Baumgartner's world altitude record set just two years ago by jumping from 135,000 feet.
Eustace, Google's senior vice president of knowledge, broke the sound barrier reaching a velocity of 822mph during a four and a half minute free-fall.
It took the intrepid daredevil two hours to reach the target height while being attached to the high-altitude, helium-filled balloon.
The 57-year-old had been working alongside Paragon Space Development Corp and its Stratospheric Explorer team in this secret project to develop and successfully test a self-contained commercial spacesuit.
Speaking of his feat to New York Times, Eustace said, "It was amazing. It was beautiful. You could see the darkness of space and you could see the layers of atmosphere, which I had never seen before."
Image: Alan Eustace pracitising for the jump. He broke the sound barrier and the previous record set by Felix Baumgartner.