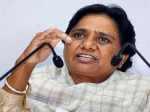 In a relief to former Uttar Pradesh Chief Minister Mayawati, the Allahabad high court on Monday dismissed a bunch of petitions seeking prosecution of the Bahujan Samaj Party supremo in the Taj Corridor case, holding they are devoid of merit.

The Lucknow bench of the court gave the relief in the case while upholding the June 2007 order of the special Central Bureau of Investigation court which dropped the criminal proceedings against her and her Cabinet colleague Naseemuddin Siddiqui for want of Governor T V Rajeswar's sanction to prosecute them.
The bench of justices Imtiyaz Murtaza and Ashwani Kumar Singh also dismissed the plea for Siddiqui's prosecution.
"The order passed by the designated court is perfectly in accordance with law. The petitioners are not entitled to any relief as claimed. All the writ petitions being devoid of merit are hereby dismissed," the bench said in its 69-page order.
The special CBI court had in its June 2007 order said that in the absence of sanction to prosecute the two, it had no jurisdiction either to take cognisance of the case or to proceed further in respect of Mayawati and Siddiqui in it.
Challenging the trial court's order, a total of six Public Interest Litigation petitions were filed in the high court seeking direction to the trial court for initiation of criminal proceedings against Mayawati and Siddiqui over alleged financial irregularities in the Taj corridor project.
Welcoming the high court verdict, BSP leader and Mayawati's counsel Satish Chandra Mishra termed the petitions filed in the case as 'politically motivated' and 'pursued with malafide intention'.
"There are no offences against Mayawati in the Taj Corridor case. The petitions were filed to malign her and Siddiqui's image," he told reporters.
In 2002, Mayawati had launched the corridor project to beautify areas near the Taj Mahal. A year later, the Supreme Court had directed the CBI conduct an enquiry into the alleged scam in the Taj corridor project. Mishra said the media had been repeatedly talking about a scam of Rs 175 crore, but in reality only Rs 17 crore was released.
Mishra said the Taj corridor project file was never put before Mayawati and the court has dismissed the petitions on merit. The petitioners' counsel Chandra Bhushan Pandey said the high court's decision would be challenged in the Supreme Court.
The bench had earlier on September 12 reserved its judgement on the PILs seeking direction for initiation of criminal proceedings against Mayawati and Siddiqui.