May told House of Commons that there was "clear evidence" the Bashar al-Assad government was behind a recent chemical weapons attack in Douma.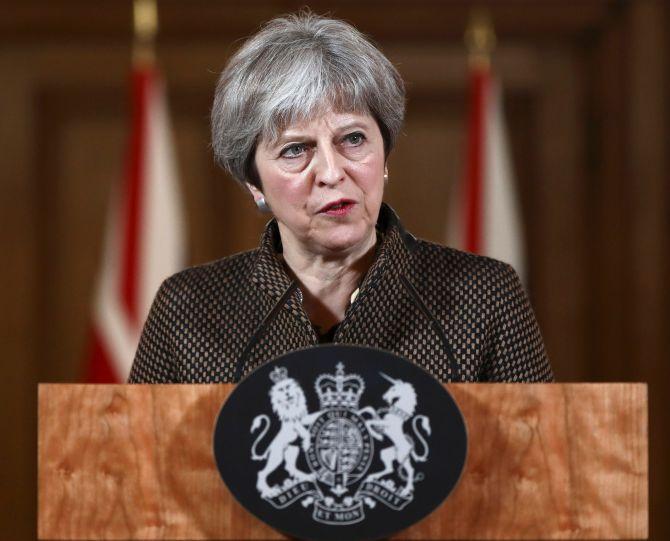 British Prime Minister Theresa May on Monday made a statement in Parliament to justify her decision to join United States-led air strikes alongside France against Syria's chemical weapons stockpiles over the weekend and declared that it had been a "morally and legally right" move.
She told MPs in the House of Commons that there was "clear evidence" the Bashar al-Assad government was behind a recent chemical weapons attack in Douma and it had been necessary to go ahead with the action without recalling Parliament for a vote on the issue to maintain the "vital security" of the military operation.
"It was about a limited, targeted and effective strike that sought to alleviate the humanitarian suffering of the Syrian people by degrading the Syrian regime's chemical weapons capability and deterring their use. And we have published the legal basis for this action," the British premier said.
"It is Parliament's responsibility to hold me to account for such decisions -- and Parliament will do so. But it is my responsibility as Prime Minster to make these decisions. And I will make them," she added.
Opposition Labour party leader Jeremy Corbyn has claimed the air strikes were "legally questionable" and questioned the proof that the Assad regime was behind the chemical attack in Douma.
"There is no more serious issue than the life and death matters of military action. It is right that Parliament has the power to support or stop the government from taking planned military action," he said.
Liberal Democrat deputy leader Jo Swinson said the decision had been taken "behind closed doors" and much more scrutiny was needed of the objectives behind it.
Sites near Damascus and Homs were hit on Saturday by the US, French and the UK in response to the alleged chemical attack on Douma on 7 April.
Both Syria, which denies any chemical use, and Russia, which provides military support to the Syrian government, have reacted against the action.
"No other group could have carried out this attack," May told MPs, adding that the Syrian authorities had attempted to "conceal the facts... supported by the Russians".
"We cannot go back to a world where the use of chemical weapons becomes normalised… I am deeply conscious of the gravity of these decisions… But I am clear that the way we protect our national interest is to stand up for the global rules and standards that keep us safe. That is what we have done -- and what we will continue to do," she concluded.
Any vote at the end of Monday's Commons debate on the issue will be largely symbolic, merely to acknowledge that Parliament has had its say rather than give MPs the chance to formally approve or reject the air strikes themselves.