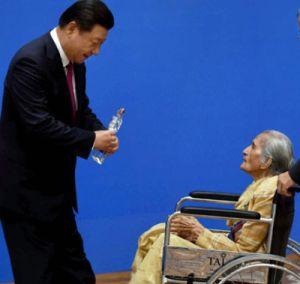 Manorama Kotnis, the 94-year-old sister of Dr Dwarkanath Kotnis who is considered the symbol of Indo-Chinese friendship, has passed away after a brief illness.
Manorama Kotnis passed away at her residence in suburban Vile Parle last night, family sources said.
In 2013, keeping alive the traditions of past Chinese leaders, visiting Premier Li Keqiang had an emotional audience with Manorama in Mumbai.
She was a professional nutritionist who had worked with the government.
Expressing his "great happiness" at the meeting, Li had then enquired after Manorama's health and said that all Chinese leaders make it a point to the visit the Kotnis family whenever they are in India.
Li had gifted a MP4 player to Manorama, as he learnt that she loves to listen to music despite her failing hearing ability.
He had informed the family that his country still remembers Dr Dwarkanath Kotnis and his help to the Chinese during the crises following the Japanese aggression during 1937-45.
Former Union Home Minister Sushilkumar Shinde told PTI that Manorama had carried on the legacy of social work of her late brother.
Interestingly, 2013, was the platinum jubilee of Kotnis' travelling with a medical team to China in September 1938 at the age of 28.
Li had explained how Kotnis is still regarded as a strong symbol of Sino-Indian friendship and the manner in which China has honoured him by keeping alive his legend through different monuments and memorabilia.
Among other things, China has honoured Kotnis with a Martyrs Memorial and a 1982 movie. Every Chinese head of state or government who visits Mumbai calls on the Kotnis family.
In the past, the Kotnis family met with then premier Zhou En-Lai in 1950, followed by president Jiang Zemin in 1996, who sent flowers to them.
In 2001, Premier Li Peng, Premier Zhu Rongji in 2002 and President Hu Jintao met the family in 2006.
In 2012, Kotnis' second sister Vatsala expired and also his widow, Guo Qinglan, died at an advanced age in their respective countries, India and China.
Image: Chinese President Xi Jinping presents the Five Principles of Peaceful Coexistence Friendship Award to Manorama Kotnis at a function in New Delhi. Photograph: PTI Photo