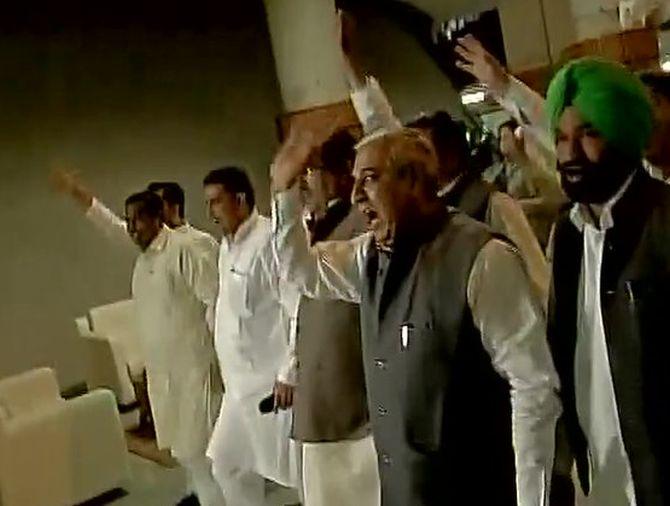 In an unprecedented development, MLAs of opposition Indian National Lok Dal in Haryana on Thursday virtually stormed the assembly of neighbouring Punjab to protest against a move that could stall construction of a canal by which Haryana is supposed to receive water.
The INLD legislators led by leader of opposition Abhay Singh Chautala and state unit president Ashok Arora went to the Punjab assembly which is in session and started protesting at its gate.
They were protesting against a bill passed by the Punjab assembly that provides for returning 3,928 acres of land acquired for construction of the Sutlej-Yamuna Link canal to the original landowners.
The INLD MLAs were engaged in a scuffle with the security personnel outside the Punjab assembly.
Punjab and Haryana, with common capital Chandigarh, have assemblies in the same complex in Chandigarh.
Chautala and his party MLAs went to the Punjab assembly while their own assembly was in session.
The INLD MLAs raised slogans against the governments in Punjab and Haryana and demanded that the bill be withdrawn.
Later speaking to reporters, Chautala said, "We met Punjab assembly speaker Charanjit Singh Atwal in his room in the complex and lodged our protest against the bill passed by the House.
"The passage of the bill will trigger a fresh row between the two states. We considered Punjab as our elder brother but today they have betrayed us."
"Now the people of Haryana will have no faith in Punjab...They have ended the relationship between the two states," he said.
He termed the situation as a "black chapter" in the history of Haryana and said his party will fight it till the end.
"If a need arises, the INLD will mobilise its workers and proceed to the border with Punjab with implements to again dig up the under construction SYL canal being flattened by the people in Punjab," Chautala said.
Image: INLD Haryana MLAs protest outside Punjab assembly. Photograph: ANI/Twitter