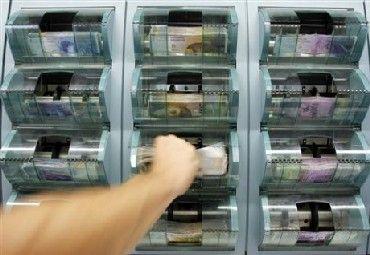 Continuing to shed its famed banking secrecy veil, Switzerland today made public more names about which it has been approached from abroad for information, even as it published fresh gazette notifications about two Indians -- Sayed Mohammed Masood and Chand Kauser Mohammed Masood.
Switzerland has already shared some details with India about the two earlier, but their names figured again in two fresh notifications published on Tuesday in Switzerland's official gazette about "mutual assistance" sought from the foreign governments in tax matters.
These notifications also mentioned a Bahamas-based entity Wharf Limited, presumably linked to the Masoods who are being probed for a long time for a major ponzi scheme run from Mumbai through City Limousines.
Some of their Swiss accounts were also frozen a few years ago following a request from the Enforcement Directorate.
Attempts to contact Masoods did not yield any results.
The other names made public in Tuesday's gazette included that of persons from Panama, Germany and the US.
These names are being published in Switzerland's official gazette pursuant to information requests received by the Swiss Federal Tax Administration from the foreign countries.
So far, the names of seven 'Indian nationals' have been published, while the gazette has now made public the names of six entities based in foreign locations for which the tax authorities from India have sought information.
Most of these foreign entities are based in tax havens and are being probed by the Indian authorities on suspicion for being linked with Indian nationals or companies.
These include Mokopane Ltd and Sorwood Development (both based in British Virgin Islands), Kinetic Holdings Ltd from Channel Islands, Alea Management Ltd from Bahamas and Anrid LLC (ICC Management Services) from New Castle County, USA.
As per the Swiss gazette notifications, FTA has already shared some details about them with the Indian authorities.
However, these details have not been disclosed in the gazette, which mentions that the information needs to be kept secret and could be shared only with those concerned with their assessment or prosecution and only for such purposes.
Most of the Indian requests have been made through the Foreign Tax and Tax Research Division in the Ministry of Finance (Department of Revenue).
Officials said that some names have been made public through the gazette notifications in the past also, but those were of the persons that banks were unable to locate.
Also, the numbers have gone up in a big way because of a quantum leap in the number of requests being received by the Swiss tax department from the foreign governments for mutual assistance procedure.
Besides, a new law has done away with the mandatory requirement of a bank customer being informed first before any sharing of information about them by the Swiss authorities.
Officials said that the main purpose of the names being published in the gazette is providing the concerned persons an opportunity to explore legal remedies.
© Copyright 2022 PTI. All rights reserved. Republication or redistribution of PTI content, including by framing or similar means, is expressly prohibited without the prior written consent.