Police in Sweden have arrested a man for a "terrorist crime" hours after a beer truck ploughed into a crowd outside a busy department store in central Stockholm, killing four.
IMAGE: A turned over 'Stockholmslejon', a concrete traffic stopper, is seen outside the roped off area next to the department store Ahlens after a suspected terror attack on the Drottninggatan Street in central Stockholm. Photograph: Jonas Ekstromer/TT News Agency/Reuters
The man was formally arrested "on suspicion of a terrorist crime through murder", Karin Rosander, a communications director at the Swedish prosecution authority, said early on Saturday.
"The person in question has been arrested as the culprit ... in this case the driver," police spokesman Lars Bystrom said.
"Then, there can be other people who are associated with him, but we do not know that at the current time."
Police had detained the man earlier on Friday in the wake of the attack.
In a city flooded with police, many of them masked and carrying machine guns, a patrol had stopped the man because he had "behaved in a way that made him interesting", and he resembled the man in a photo issued by police shortly after the attack.
Local media reported that a second man had been detained on suspicion of being connected to the main suspect. The police declined to comment on whether it had arrested any additional suspects.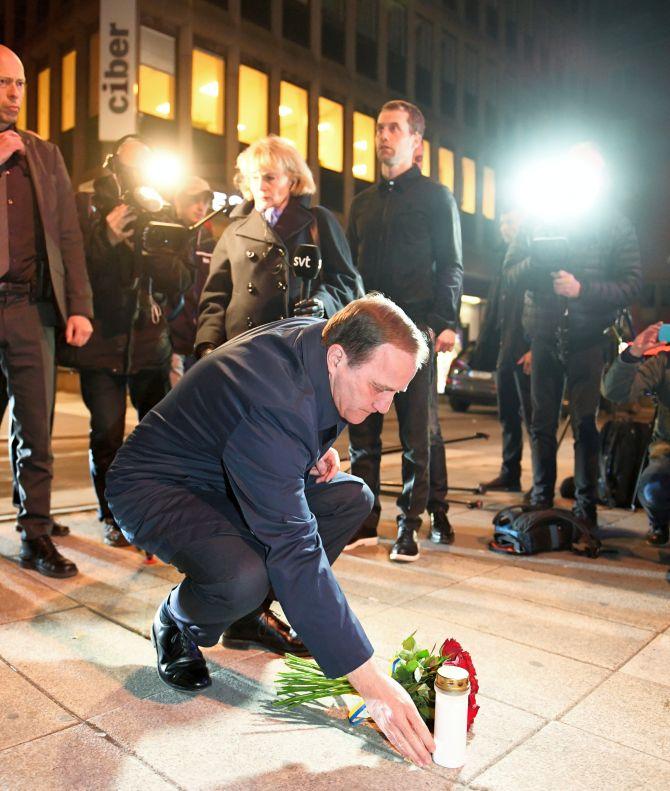 IMAGE: Sweden's Prime Minister Stefan Lofven places flowers at Queens Street after a hijacked beer truck plowed into pedestrians. Photograph: Fredrik Sandberg/TT News Agency/Reuters
Six of the injured have been released from hospital but nine remain, including a child.
If confirmed as a terror attack, it would be Sweden's first such assault. Fifteen people, including children, were also injured, nine seriously, health authorities said.
Swedish Prime Minister Stefan Lofven said he had strengthened the country's border controls.
"Terrorists want us to be afraid, want us to change our behaviour, want us to not live our lives normally, but that is what we're going to do. So terrorists can never defeat Sweden, never," Lofven said.
Witnesses described scenes of terror and panic.
"A massive truck starts driving ... and mangles everything and just drives over exactly everything," eyewitness Rikard Gauffin was quoted as saying.
"It was so terrible and there were bodies lying everywhere... it was really terrifying," he added.