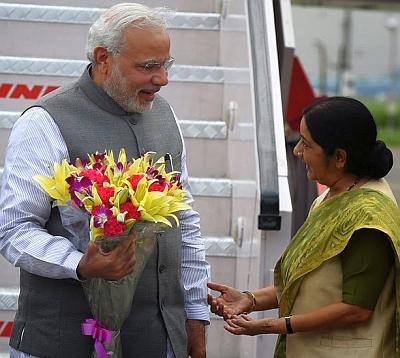 The ministry of external affairs has released the list of gifts received by the Narendra Modi government till December 2014, and it makes for interesting reading.
For those not in the know, all government functionaries are required by law to deposit gifts received by them at the Toshakhana to be appraised by the customs department. If it is estimated to be below a certain limit they may retain the gift. If it is more expensive, the recipients have the option to buy the gift; if they don't exercise this option, the gift will remain in the Toshakhana, which is at the MEA's Jawaharlal Nehru Bhavan.
Between October and December 2014, the MEA list reveals, 87 gifts were deposited at the Toshakhana. Prime Minister Narendra Modi received 31 gifts that quarter, most of them 'yet to be collected from the toshakhana', some 'returned to the recipient in accordance with applicable rules', and a few 'displayed at the GHO, PM House'.
External Affairs Minister Sushma Swaraj tops the list with 39 gifts during the quarter, most of them marked 'yet to be collected' and 'option of the recipient pending'.
The most expensive gift received by Modi was a painting worth Rs 30,000, which is at the toshakhana. He also received a silver plate and five small silver bowls worth Rs 25,000, marked 'option of the recipient pending'. Ditto with another painting worth Rs 25,000.
Most of the other gifts received by him were reasonably priced, like a pair of silver cufflinks worth Rs 2600, a silver model of a boat worth Rs 5000, one wooden artefact worth Rs 1000, an earthen bowl with lid worth Rs 500 .
Alas, the list does not mention who gave the gifts.
Swaraj received a silver photo frame worth Rs 20,000, with 'option of the recipient pending'. Another photo frame worth Rs 15,000 has the same remark as well. She was also gifted a pocket mirror worth Rs 500, a porcelain special handmade plate worth Rs 500, a jute mat worth Rs 500, among other things.
The gifts received by bureaucrats too need to be declared under law, and the secretary DPE in the ministry of heavy industries and public enterprises has deposited a whisky bottle -- Scotch is spelt whiskey -- worth Rs 3000, with 'option of the recipient pending'.
G Mohan Kumar, secretary, defence production, has deposited one packet of red ginseng worth Rs 4500, and a kettle with lid worth Rs 750.
Interestingly, we can't help waiting for the toshakhana list for January to March 2015, to see if the textile used by Prime Minister Modi in his much-discussed suit monogrammed with his name worn during US President Barack Obama's visit last month would find mention in it.
Meanwhile, you can read the complete list of gifts received by the government since July-September 2013 here.