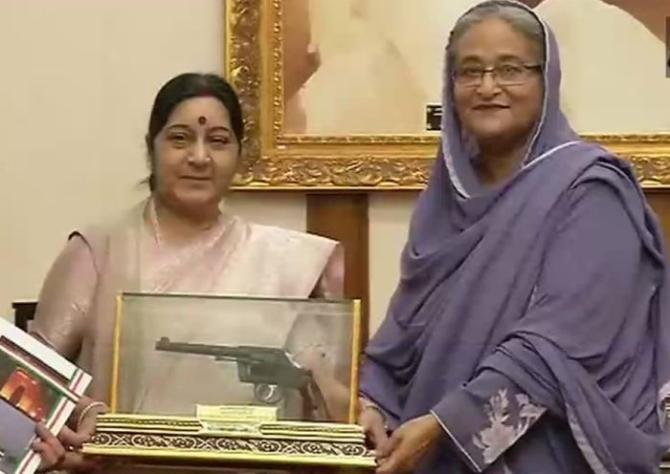 IMAGE: External Affairs Minister Sushma Swaraj hands over some memorabilia of the 1971 liberation war to Bangladeshi Prime Minister Sheikh Hasina to be displayed in museums.
Photograph: ANI
India and Bangladesh today discussed the common challenge of terrorism and resolved to fight the scourge together even as New Delhi reaffirmed its status as a reliable development partner of Dhaka.
"We are both determined to protect our societies from the threat of ideologies of hate, violence and terror by adopting a zero tolerance policy and a comprehensive approach in fighting violent extremism and terrorism at all levels," External Affairs Minister Sushma Swaraj said after talks with the Bangladeshi side as part of the fourth Joint Consultative Commission.
"We discussed the common challenges that we are faced with today. One such challenge is that of terrorism, extremism and radicalisation and we will continue to fight this scourge together and along with other like-minded countries," she said.
Swaraj, who arrived in Dhaka on a two-day visit, said, "India has been a longstanding and reliable development partner of Bangladesh."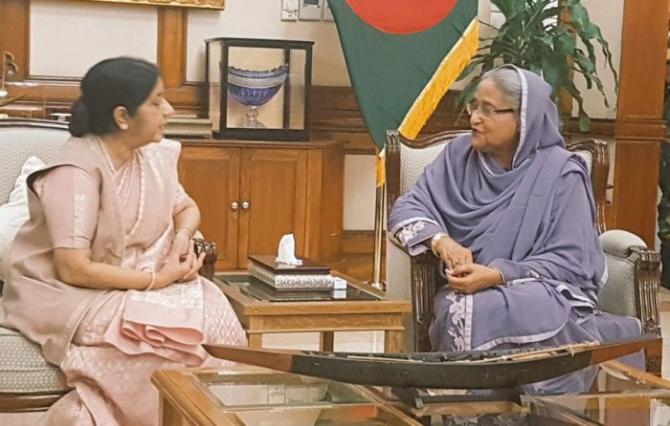 IMAGE: Swaraj with PM Hasina in Dhaka on Sunday. Photograph: ANI
"Totally, three lines of credit amounting to $8 billion (Rs 52,000 crore) have been extended by India to Bangladesh so far. This is by far the largest development assistance that India has extended to any country worldwide," she said.
India has also been extending grant assistance for small socio-economic projects in Bangladesh. In the past three years alone, 24 such grant projects have been completed which include construction of students' hostels, tube-wells, cultural centres, and orphanages among others. Presently 58 projects, including city development projects in Rajshahi, Khulna and Sylhet, are under implementation, she said.
"India is now supplying 660 MW of much needed power to the Bangladesh people and this figure will double, if not triple, in the foreseeable future. We will work together as founding members of the International Solar Alliance, for which Bangladesh has just confirmed its accession. This alliance is expected to make solar energy affordable," Swaraj said.
The two nations have already agreed on the construction of a petroleum products pipeline that will link Siliguri with Parbatipur, for the benefit of the people of northwestern Bangladesh, as a grant in aid project.
The setting up of LNG terminal, supply of natural gas by pipeline and investments in the upstream sector are also under consideration, she said.
She said restoration of pre-1965 links encompassing road, rail, water and coastal shipping links is being planned to increase connectivity, citing increase in frequency of the Dhaka-Maitri express.
The inaugural run with end-to-end Immigration and Customs services for the Maitri Express and the inaugural commercial run of the Kolkata-Khulna Bandhan service are all expected soon, she said.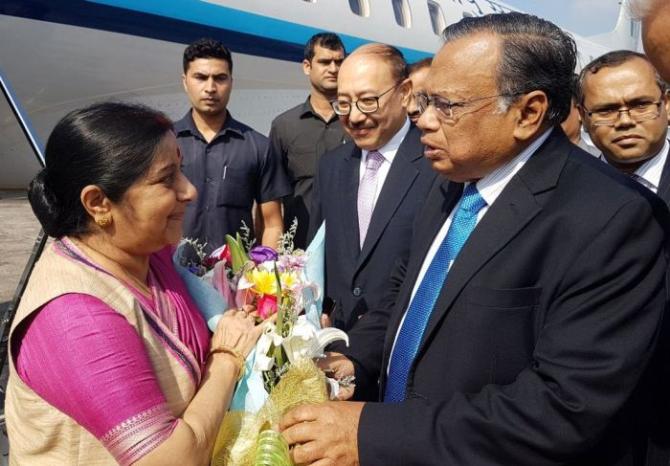 IMAGE: Swaraj being greeted on arrival in Dhaka by Bangladesh Foreign Minister A H Mahmood Ali. Photograph: Courtesy @MEAIndia/Twitter

In order to facilitate people-to-people contacts, she said the Indian Mission and Posts in Bangladesh issued 9.76 lakh visas in 2016 and these are expected to grow to about 14 lakh visas in 2017.
Swaraj said India will also offer five-year multiple entry visas for Bangladeshi freedom fighters and is planning a scheme for their medical treatment in India.
She also handed over some memorabilia of the 1971 liberation war to Bangladeshi Prime Minister Sheikh Hasina to be displayed in museums.
Swaraj also said that India is 'deeply concerned' at the spate of violence in Myanmar's Rakhine State where normalcy will be restored only with the return of 'displaced persons'.
Nearly 600,000 minority Rohingya Muslims have fled to Bangladesh since late August to escape violence in Myanmar's Rakhine State where the army has launched a crackdown against militants.
Myanmar doesn't recognise Rohingya as an ethnic group and insists that they are Bangladeshi migrants living illegally in the country.
Bangladesh has sought India's 'sustained pressures' on Myanmar for its resolution.
"India is deeply concerned at the spate of violence in Myanmar's Rakhine State," Swaraj said after talks with the Bangladeshi side as part of the fourth Joint Consultative Commission.
She, however, preferred not to use the word 'Rohingya' and said 'we have urged that the situation be handled with restraint, keeping in mind the welfare of the population'.
"It is clear that normalcy will only be restored with the return of the displaced persons to Rakhine state.
"The only long term solution to the situation in Rakhine State is rapid socio-economic and infrastructure development that would have a positive impact on all the communities living in the state," she said.
Ali said Dhaka was 'happy to be reassured that India would continue to support the humanitarian cause related to Rohingyas in Bangladesh'.
"We further urged India to contribute towards exerting sustained pressure on Myanmar to find a peaceful solution to the including sustainable return of all Rohingyas to their motherland," he said.
India has committed to provide financial and technical assistance for identified projects to be undertaken in Rakhine State in conjunction with the local authorities, Swaraj said.
India has supported implementation of the recommendations contained in the Kofi Annan-led Special Advisory Commission report.
This is Swaraj's second visit to Bangladesh and comes after the recent trip of Finance Minister Arun Jaitley during which India operationalised a $4.5 billion (Rs 29,250 crore) line of credit to Bangladesh to enable implementation of development projects in key areas, including power, railways, roads and shipping.
The announcement of the line of credit was made during Hasina's visit to India in April.
The development is also seen as India's attempt to counter rising Chinese influence in Bangladesh, where Beijing is trying to make inroads in infrastructure ventures.
© Copyright 2021 PTI. All rights reserved. Republication or redistribution of PTI content, including by framing or similar means, is expressly prohibited without the prior written consent.