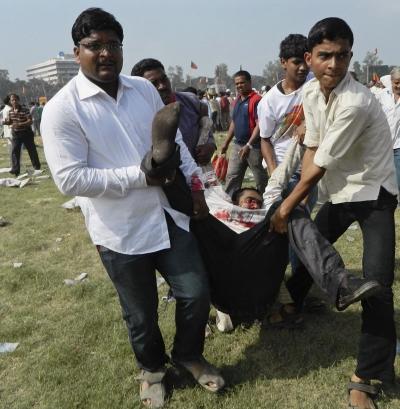 Four suspects have been arrested in connection to the serial blasts that rocked Patna on Sunday. They have been identified as Imtiaz Ansari, Kaleem, Mohammad Ainul and Akthar, according to sources.
Ansari, the first suspect to be detained, led investigators to the other three.
According to sources, Ansari told Bihar police that the bombs were placed in a clockwise manner, with the first one planted at the railway station and the last one at Gandhi Maidan. Each of these bombs was fitted with timers so they would go off while Gujarat Chief Minister Narendra Modi was addressing a massive rally at Gandhi Maidan.
The explosives, informed Ansari, were planted in the wee hours of Sunday, when security arrangements at the venue were comparatively lax.
Though the group had planned to carry out 12 blasts, Ansari was arrested while trying to plant one of the bombs and part of their terror plan was thwarted.
The National Investigation Agency, meanwhile, has taken over the blasts probe.
Bihar police believe that the serial blasts were the handiwork of the Indian Mujahideen.
"We are trying to find out if there are any similarities with the Bodh Gaya blasts. The Patna blasts do seem to bear the signature of the Indian Mujahideen, but it is too early to tell," said a NIA official.
On the basis of the interrogation of the four suspects, Ranchi police conducted a raid and seized some explosives, including a gas cylinder, on Sunday.
One of the arrested suspects is in a serious condition as he was injured in the blast.
Ansari reportedly told police that the blasts were orchestrated to avenge the loss of Muslim lives in the recent riots in Muzaffarnagar, Uttar Pradesh.
Believing that the Bharatiya Janata Party was behind the blasts, Ansari said he and his associates decided to target Modi, the saffron party's tallest leader.
"We planned the attack on the day Modi's hunkar rally was announced. We found the security arrangements extremely lapse. We conducted a reconnaissance five times at the sites where we wanted to plant the bomb," he said.
"Both the Gandhi Maidan and railway station had basic run-of-the-mill security. With a huge crowd, police could not possibly man the entire area. At most spots, there were no security checks and no policemen were present," Ansari told police, according to sources.
Bihar police believe that the four suspects belong to the Ranchi module of the Indian Mujahideen, which also planned the Bodh Gaya blasts.
The NIA has remained non-committal on the IM's involvement, as none of the suspects have admitted to being part of the terror outfit.
Image: People carry an injured man after a bomb blast at Gandhi Maidan ' Photograph: Krishna Murari Kishan/Reuters