White House condemns attempted attacks; New York Police Department increase patrols at other major newsrooms.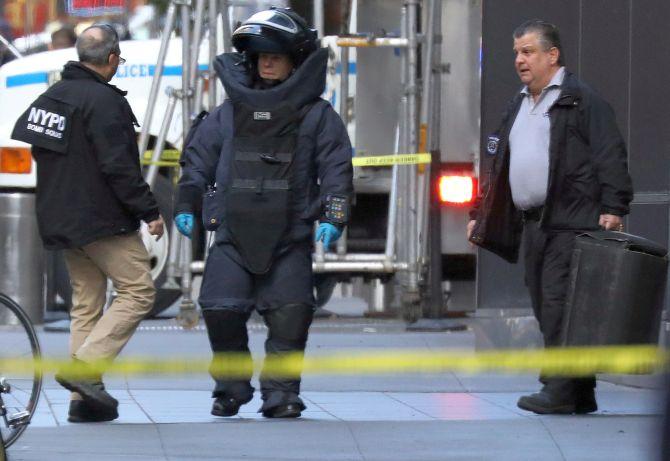 Two "potential explosive devices" sent to the homes of former United States president Barack Obama and 2016 Democratic presidential nominee Hillary Clinton were intercepted and proactively detonated on Wednesday, in an incident police termed an attempted terrorist attack.
Explosives were also found in a package sent to the US news network CNN, after which Time Warner building in New York City, where the CNN bureau is located, was evacuated.
CNN's anchors left their studios to broadcast from the streets outside their building.
The US Secret Service said it had intercepted two "suspicious packages" addressed to Obama and Clinton.
New York Police told reporters that these devises were an intent to strike fear and described it as an attempted terrorist attack.
"The packages were immediately identified during routine mail screening procedures as potential explosive devices and were appropriately handled as such. The protectees did not receive the packages nor were they at risk of receiving them," the agency in a statement.
"Both packages were intercepted prior to being delivered to their intended location," it said.
Officials "proactively detonated" the device, and determined that it contained explosive powder and "had the components of a bomb," it said.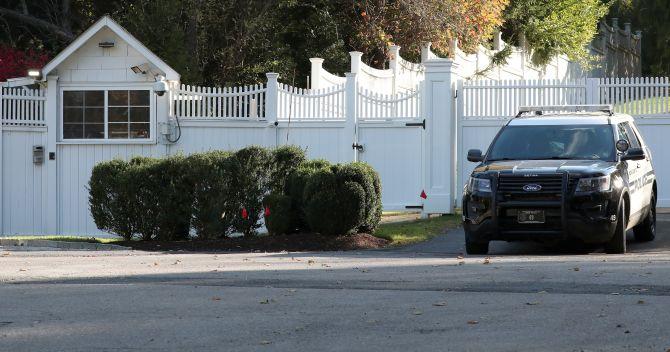 The package intended for Obama was intercepted in Washington, DC, on Wednesday morning, and the one intended for Clinton was addressed to her in Westchester County, New York, on Tuesday.
Following the interception of suspicious packages, the Secret Service has initiated a full scope criminal investigation.
A senior White House officials told NBC News that US President Donald Trump had been briefed on the situation.
US Vice President Mike Pence condemned the attempted attack and described these as cowardly.
"We condemn the attempted attacks against Obama, the Clintons, CNN & others. These cowardly actions are despicable & have no place in this Country. Grateful for swift response of Secret Service, FBI & local law enforcement. Those responsible will be brought to justice," Pence tweeted.
"I agree wholeheartedly!" US President Trump said as he re-tweeted Pence's message.
The Secret Service refuted reports of a suspicious package being addressed to the White House.
"At this time the Secret Service has intercepted TWO suspicious packages - one in NY and one in DC Reports of a third intercepted package addressed to the WH are incorrect," it said.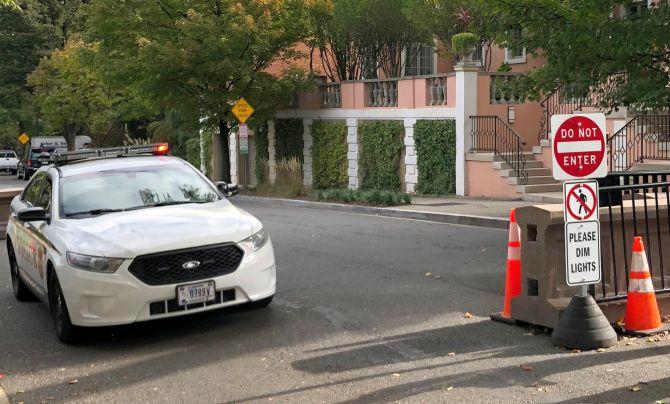 The Federal Bureau of Investigation said the package intended for the former first lady and secretary of state Clinton was found in the vicinity of her residence in Chappaqua, New York, but offered no additional comment, citing the ongoing investigation.
The Clintons have lived in Chappaqua, about 48 km north of New York City, since former President Clinton left office in 2001.
Responding to the development, Hillary Clinton said it's a sign of a "troubling time" in America.
"It is a troubling time, isn't it? It's a time of deep divisions and we have to do everything we can to bring our country together," she said at a campaign event in Florida.
CNN said the package sent to it was addressed to former CIA director John Brennan.
It said that the package has been removed from its New York building and another security sweep is going on.
The device sent to Time Warner Centre was constructed with a pipe and wires, CNN quoted an NYPD source as saying. Law enforcement authorities are treating the device as a real explosive, it said. The device was discovered in the mailroom.
CNN president Jeff Zucker said that all offices of the network around the world are now being searched "out of a complete abundance of caution".
"We are working with authorities to determine the severity of the situation," Zucker said in a memo to staff.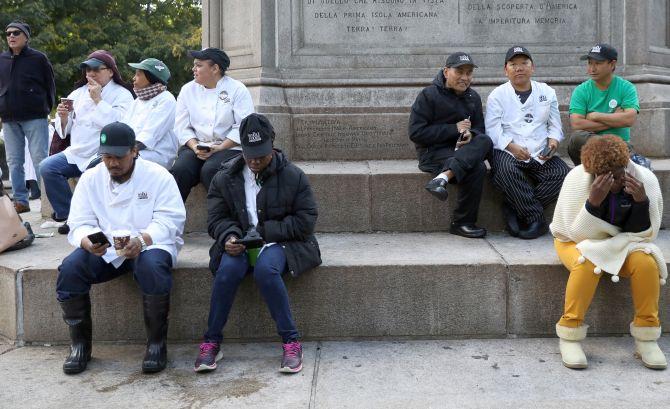 Meanwhile, a suspicious package was also found in a building that contains offices used by Democratic Congresswoman Debbie Wasserman Schultz. The building was evacuated.
San Diego Union-Tribune in California said that its building was evacuated after a stack of suspicious looking packages were spotted in front of the building that houses the newspaper. The boxes, which were situated on top of a trash can, about 8:15 am, police said.
Trump's daughter Ivanka Trump strongly condemned the attempted acts of violence.
"I strongly condemn the attempted acts of violence against President Obama, the Clinton family, @CNN & others. There is no excuse-America is better than this," Ivanka tweeted.
Senate Majority Leader Mitch McConnell described the targeting of Clinton and Obama with potential explosives as acts of "domestic terrorism."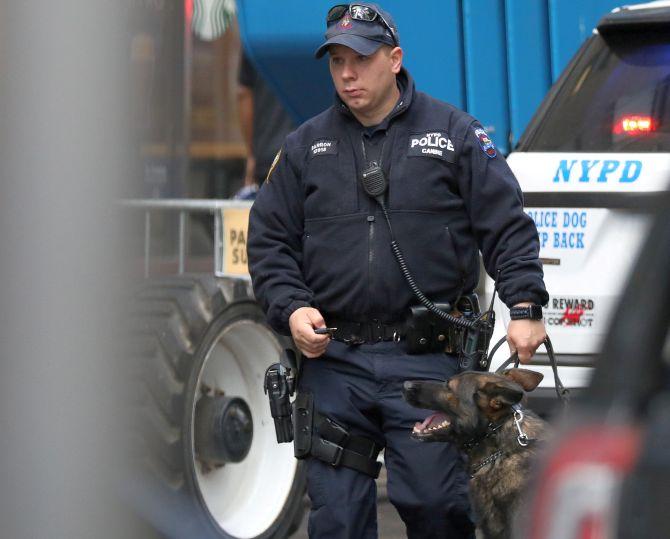 The White House condemned the "attempted violent attacks."
"We condemn the attempted violent attacks recently made against President Obama, President Clinton, Secretary Clinton, and other public figures," White House press secretary Sarah Sanders said in a statement.
"These terrorising acts are despicable, and anyone responsible will be held accountable to the fullest extent of the law. The United States Secret Service and other law enforcement agencies are investigating and will take all appropriate actions to protect anyone threatened by these cowards," she said.
Sanders said that this is an ongoing situation that Trump and his administration are monitoring closely.
"Our condemnation of these despicable acts certainly includes threats made to CNN as well as current or former public servants. These cowardly acts are unacceptable and wont be tolerated," Sanders said.