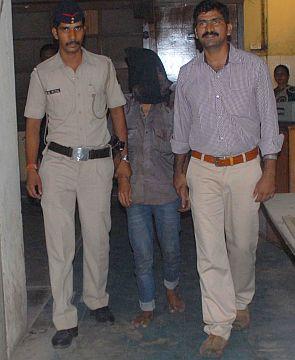 Eight days after an American woman was allegedly attacked and robbed inside a moving suburban train, Railway Police on Monday claimed to have cracked the case, with the arrest of a drug addict from Masjid Bunder in south Mumbai.
"Accused Rajkumar Tiwari (31), a drug addict, was picked up from outside the Masjid Bunder railway station yesterday on suspicion during a combing operation. Upon interrogation, he confessed to the crime, following which he was placed under arrest last night," said B Shirsath, Deputy Police Commissioner of the Government Railway Police (GRP).
Tiwari, who hails from Uttar Pradesh, was produced before a court which remanded him in police custody till August 30, the officer said adding that the mobile phone that was robbed from the victim was yet to be recovered.

Police said that the Tiwari had slashed the neck and cheek Michelle Marks, a US national, when she refused to part with her i-Phone while travelling in a first-class ladies' compartment of a Borivali-bound local train at about 5 pm on August 18.
The accused had jumped out of the train as it slowed down at Charni Road railway station.
According to police, Marks was alone in the compartment. As it was a Sunday, the bogie was empty. The victim spotted the accused inside the train at Marine Lines station.
The victim, who resides at Goregaon along with her brother and two others, works with an NGO and has been in Mumbai since a year. On the day of the attack, she had gone to Colaba for a prayer meet.

GRP Crime Branch's senior inspector D Wadmare said, "After the accused was picked up, he was asked about the injuries he had suffered on his hands and head. Upon sustained interrogation, the accused admitted that he had robbed a lady in a moving train and sustained the injuries when he jumped out of the train."
The accused claimed that he had handed over the phone to a lady, who supplies him drugs and in return he took Rs 300, police said adding, "We have also detained the lady he was talking about and are verifying the facts."

Investigators stumbled upon the accused after questioning about 200 suspects since eight days, the officer said. "Since he did not have money, he was looking for a target in the trains to carry out robbery. After boarding the train, he spotted the lady alone and attacked her," Wadmare added.

The accused had five criminal cases registered against him by the Railway Police and he was also externed from the city limits twice earlier, police said adding that he was under influence of drugs when he had committed the offence.
© Copyright 2022 PTI. All rights reserved. Republication or redistribution of PTI content, including by framing or similar means, is expressly prohibited without the prior written consent.