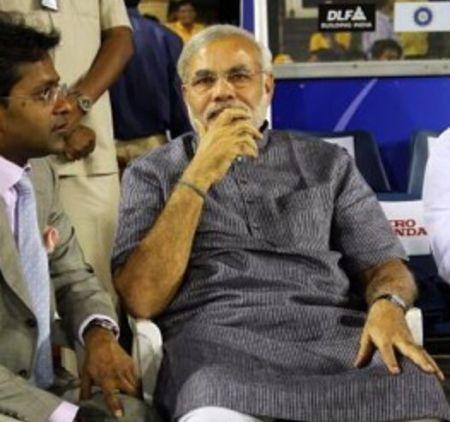 Escalating its attack, Congress on Monday charged the entire Bharatiya Janata Party and the government with "aiding and abetting" Lalit Modi, a fugitive, with "tacit approval" of Prime Minister Narendra Modi and demanded an explanation from him.
The party also contended that a criminal case has been made out against External Affairs Minister Sushma Swaraj in helping the former Indian Premier League boss get travel documents to go out of the United Kingdom and sought an FIR registered against her.
Addressing a press conference, Congress chief spokesman Randeep Surjewala posed nine questions to the PM to answer whether there was any quid pro quo in helping Modi, who has been accused salting away Rs 700 crores out of the country and was facing charges of money laundering, match-fixing and betting.
He said it should also be examined whether Swaraj was acting at the instance of the PM and whether he was "a party in helping a fugitive and money-launderer".
"There are serious doubts about the role, knowledge and complicity of the PM. He has maintained a studied silence while he tweets on everything everyday," Surjewala said.
"Incontrovertible facts, documents and details of the 'Modigate' emerging since yesterday clearly reflect active complicity of not only the external affairs minister but also point towards the entire BJP government aiding and abetting a fugitive of Indian law with tacit approval of the PM," he said.
The Congress spokesperson said Lalit Modi was directly in touch with Swaraj, who admits to have acquaintance with him and speaking to him on phone on a number of occasions.
Making a video presentation, the party displayed three photographs of Lalit Modi with the PM and BJP chief Amit Shah before the two leaders assumed their present offices to make a point about his association with them.
However, the party said it was not demanding the PM's resignation, saying all the questions raised by it should be first examined. If allegations are proved, then he has no moral right to continue, he said, adding then he will have to resign.
"For a PM who single-handedly runs the foreign ministry with the external affairs minister playing a second fiddle, Narendra Modi's complicity in providing favours to a legally established offender and absconder -- Lalit Modi -- is nothing but open to negative interpretation.
"Lalit Modi not only had a direct association as also client-counsel with Swaraj family but also appears to have a long-standing relationship with the PM and BJP president as facts available in public domain establish," Surjewala said in a statement.
He alleged that Swaraj overturned and overruled existing government communications to a foreign country. These communications of the previous United Progressive Alliance government not only denied travel documents to Modi but also sought his arrest to hold him accountable to law and repatriate "black money laundered by him".
"Shockingly, it is unheard of that the foreign minister of a country calls up the envoy of a foreign nation as also head of foreign parliament's 'Commons Home Affairs Select Committee' for a criminal. It's also unprecedented that written communication establish quid pro quo in the past between Lalit Modi and Swaraj," Surjewala said.
He referred to various notices issued by the Enforcement Directorate for alleged violations of Foreign Exchange Management Act, Money Laundering Act and other offences and Income Tax authorities between 2010 and 2012 and the assumption of office by BJP in 2014.
The party also pointed to various communication, including exchange of letters between Keith Vaz, who was Chairman of the Commons Home Affairs Committee, to Sarah Rapson, Director of UK Visas and Immigration Department, over travel documents to Modi for attending a family marriage and accompanying his wife for cancer treatment.
Accusing the government and BJP of evading the 11 questions put to them on Sunday, Congress wanted to know the relationship between Narendra Modi, Amit Shah and Lalit Modi and whether Swaraj could withdraw the written communication of the government of India without consent from the finance minister and PM to help him get travel documents.
"Is tacit approval of the PM not writ large," Surjewala said and asked why Swaraj did not insist on a conditionality that Modi will present himself before authorities in India after his visit to Portugal.
Surjewala asked whether by facilitating Modi "escape" the blue-corner notice and prosecution in India has she not abetted a crime and is consequently liable to be punished under various section of the Indian Penal Code.
He also asked whether it was not a fact there is a clear cut case of conflict of interests made out against Swaraj after her daughter Bansuri Swaraj appear for Modi in passport case in Delhi and the minister's husband.
Congress also alleged that the grounds given by Swaraj for helping Modi to give consent for surgery to his wife in Portugal was a "patent lie".
He also raised a question why the government of India not challenge in the Supreme Court the order of the division bench of the Delhi high court releasing passport to Modi.
The party spokesperson also wanted to know the current stand of the finance ministry as the also the enforcement directorate and Income Tax authorities on the status of Lalit Modi "as a criminal, and absconder and a money launderer".
"Will the finance ministry make an appropriate statement," he said.
Image: A file image of Lalit Modi with Narendra Modi at an IPL match back in 2010. Photograph courtesy: AICC