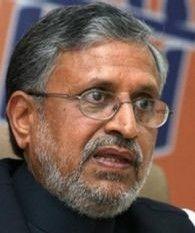 Mounting an all out attack against the Nitish Kumar government, senior Bharatiya Janata Party leader Sushil Kumar Modi on Monday began a 24-hour fast in Patna to protest against the police firing in Bagaha and the serial blasts in Bodh Gaya "due to security lapses".
Accompanied by Bihar BJP president Mangal Pandey and other leaders, Modi began his fast outside the Sri Krishna Memorial hall near Gandhi Maidan police station.
Speaking on the occasion, he lambasted the state government for police firing in Bagaha in which six Tharu tribal people were killed last month. He also accused the government of adopting "insensitive attitude" towards the victims by failing to provide Rs 10 lakh compensation to kins of victim as demanded by the BJP.
Modi, who was the deputy chief minister in the Nitish Kumar government for over seven years before the Janata Dal-United parted ways with the BJP-led National Democratic Alliance over Gujarat Chief Minister Narendra Modi's elevation as the BJP's poll campaign panel chief, also assailed the state government for its failure to prevent the terror attack in Bodh Gaya on Sunday.
Had the state government paid heed to the intelligence tip off and enhanced security at the Mahabodhi temple and adjoining areas, Sundayy's serials blasts in the temple town could have been prevented, he said.