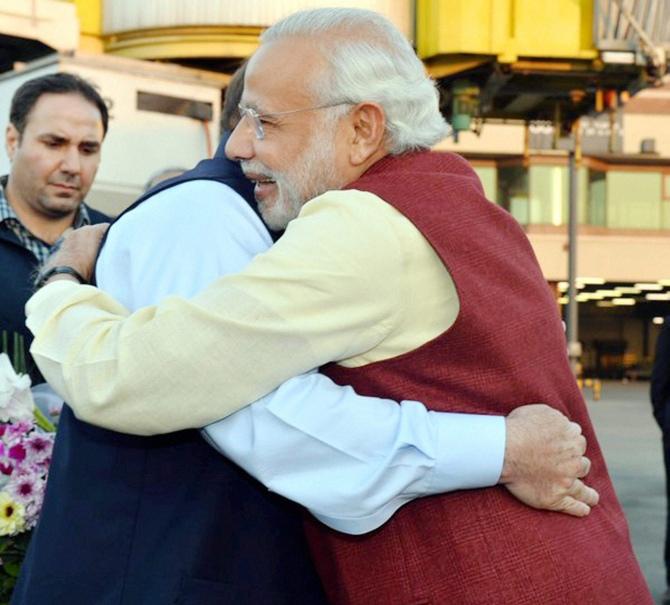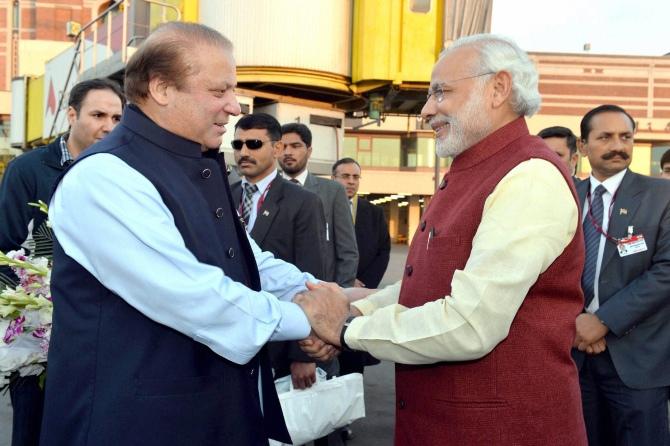 Prime Minister Narendra Modi is greeted by his Pakistani counterpart Nawaz Sharif on his arrival in Lahore. All photographs: PTI/PIB
Prime Minister Narendra Modi arrived in Lahore on Friday for a meeting with his Pakistani counterpart Nawaz Sharif in a surprise visit to this country -- the first visit to Pakistan by an Indian premier in more than 10 years.
Modi was received by Sharif with a warm hug at the tarmac of Allama Iqbal International Airport after his unexpected stopover here on his way back home after a day-long trip to Afghanistan where he went after concluding a two-day visit to Russia on Thursday.
Modi was accorded a red carpet welcome as PM's special Indian Air Force Boeing 737 plane made a smooth touchdown at 4.50 pm.
He then took a chopper to proceed to Sharif's Raiwind palatial residence in the outskirts of Lahore.
"Looking forward to meeting PM Nawaz Sharif in Lahore, where I will drop by on my way back to Delhi," tweeted Modi, who was on his first to Pakistan, as he wound up his visit to Afghanistan
"Spoke to PM Nawaz Sharif & wished him on his birthday," Modi added in another tweet. Sharif turned 66 today.
The visit came more than two weeks after Modi and Sharif had an unscheduled meeting at climate change talks in Paris.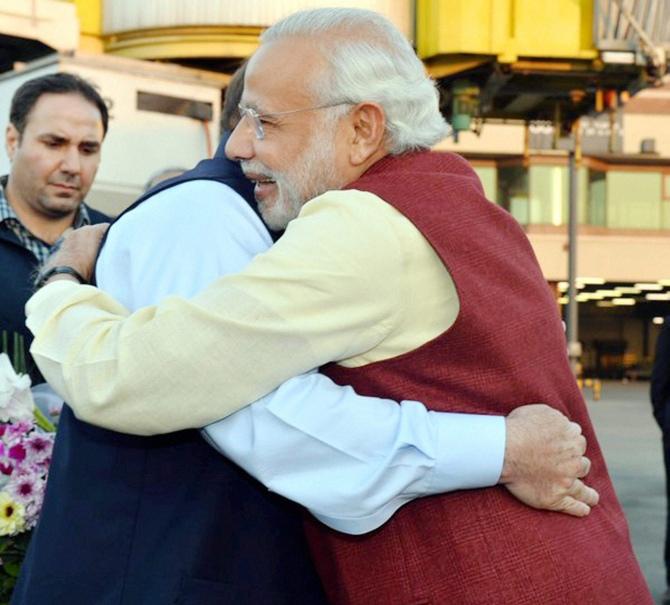 The agenda of the meeting is not known but the two leaders are expected to discuss major issues which have rocked ties between the two countries.
The relations between India and Pakistan have witnessed some positive developments after chill for several months. The two countries recently decided to launch a comprehensive dialogue after Modi-Sharif meet in Paris.
"That's like a statesman," External Affairs Minister Sushma Swaraj tweeted about the surprise visit by Modi. "One should have such relations with the neighbours," she added.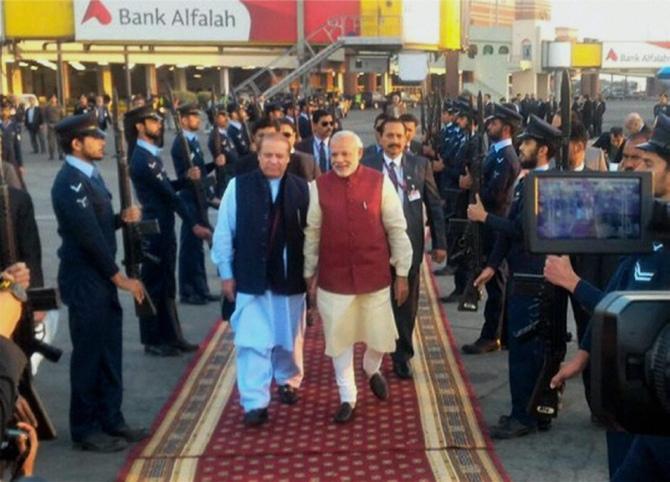 The last visit to Pakistan by an Indian prime minister was in 2004 by Atal Bihari Vajpayee, whose 91st birthday fell on Friday and who is credited with bringing about a thaw in relations with Islamabad.
Pakistani authorities put security on high alert in Lahore especially around the airport area following the announcement of Modi's brief visit to the eastern city.
A heavy contingent of police and Pakistan Rangers have reached the Allama Iqbal International Airport and taken charge of the security.
"Security in Lahore has been put on high alert," a senior police official told PTI. He said police have also been deployed on the adjoining areas of the airport.
A PM House spokesman said the Indian premier would stay in Lahore for about two hours.
A Pakistan Muslim League-Nawaz source told PTI that Sharif had invited Modi to attend the marriage of his granddaughter Mehrun Nisa which is taking place on Friday at the Sharif's Raiwind palatial residence.
Prime Minister Narendra Modi with Sharif at the wedding venue.
"I cannot confirm but there are chances that Modi goes to Raiwind and holds meeting with PM Sharif at his residence," he said.
"Welcome to Pakistan @narendramodi. Constant engagement is the only way to resolve all outstanding issues," Opposition Pakistan People's Party Chairperson Bilawal Bhutto Zardari tweeted.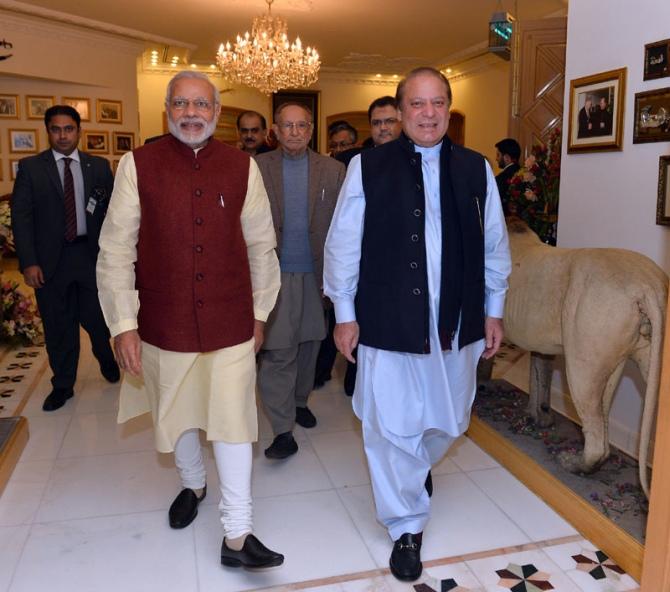 Amid reports that Modi's visit was planned only on Friday, Foreign Office spokesman Qazi Khalilullah said, "Yes, we have been informed by the Indian High Commission that PM Narendra Modi would stop over in Lahore to meet our PM. Details are being worked out."
The National Security Advisers of India and Pakistan met on December six in Bangkok. The development surprised many and it was announced with a joint press release only after the meeting was over.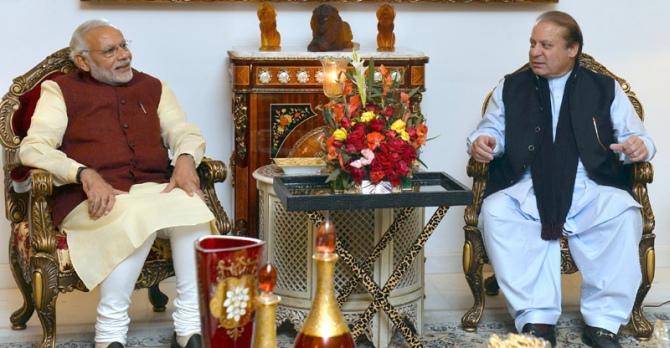 India's Ministry of External Affairs at the time said the advisers discussed "peace and security, terrorism, Jammu and Kashmir, and other issues, including tranquility along the Line of Control."
India and Pakistan broke the logjam in their ties and announced during Swaraj's visit to Islamabad a couple of days after the meet of their NSAs that they have decided to engage in a "comprehensive" dialogue that will include peace and security and Jammu and Kashmir.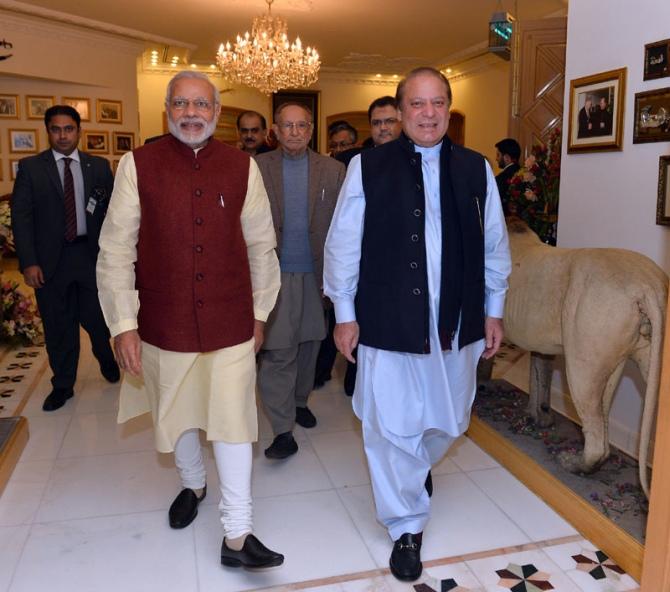 The foreign secretaries of the two countries are also likely to meet in Islamabad next month.
A government official said the two leaders will have a meeting at Sharif's residence. "They will discuss all issues of mutual concern," he said on anonymity.
The Indian leader will stay for a couple of hours in Pakistan before flying back home.
Modi is expected to meet Sharif's mother. He will also congratulate Sharif on the wedding of his granddaughter Mehrun Nisa (who is daughter of Mariam Nawaz Sharif) and present some gifts to the couple.
"Baraat (wedding procession) of Mehrunnisa will be coming today, and PM Sharif had invited Modi when he called him by phone," a PML-N senior leader told PTI.
He said special dishes have been prepared for the Indian guests. After the meeting, the Indian prime minister will leave for the Lahore airport on the Sharif's helicopter, he said.
Meanwhile, the police have blocked all roads to Jati Umrah Raiwind for motorists and Pakistan Rangers have taken over the security control of 400-acres residence of Sahrif.
The 120-member delegation accompanying Modi travelled to Jati Umrah by road.
Modi was attired in off white kurta, white pajama and red waistcoat, while Sharif was wearing light blue shalwar kameez and dark blue waistcoat.
Photograph: MEA/Twitter
© Copyright 2022 PTI. All rights reserved. Republication or redistribution of PTI content, including by framing or similar means, is expressly prohibited without the prior written consent.