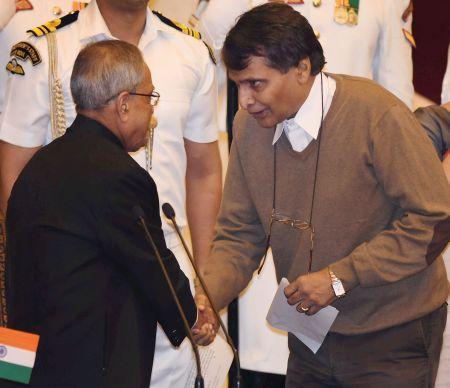 Former Shiv Sena leader Suresh Prabhu on Sunday formally joined the Bharatiya Janata Party before being sworn in as Cabinet Minister in the first expansion of the Narendra Modi government.
Prabhu, who was Power Minister in the Atal Behari Vajpayee-led previous National Democratic Alliance government, received the party's primary membership on Sunday morning and was welcomed by senior party leaders.
The 61-year-old banker-politician was a Shiv Sena leader and joins at a time when there is simmering tension between the Sena and the BJP amid talk that Uddhav Thackeray will pull his party out of the government at the Centre and play the role of opposition in Maharashtra.
Prabhu has been appointed as Modi's 'sherpa' to assist the PM at the upcoming G20 summit in Brisbane.
During Vajpayee's tenure from 1998 to 2004, Prabhu was industry minister, minister of environment and forests, minister of fertilizers and chemicals, power, heavy industry and public enterprises.
Prabhu has represented the Rajapur Lok Sabha constituency in Konkan four times, from 1996 to 2009. He lost his seat in the 2009 general election. This is the same constituency which late Janata Party leader Madhu Dandavate had represented.
Later in the day, Congress leader Karan Singh's younger son Ajatshatru Singh joined the BJP in the presence of BJP chief Amit Shah. The grandson of Jammu's erstwhile king Maharaja Hari Singh joins the BJP ahead of assembly elections in the state starting November 25 and may contest from Nagrota.
Image: President Pranab Mukherjee shakes hands with the new Cabinet minister Suresh Prabhu after administering him oath of office. Photograph: PTI photo