Sunil Salunke, a final-year student of Information Technology, caught Congress vice president Rahul Gandhi's attention and was handsomely rewarded with this selfie. Prasanna D Zore / Rediff.com reports.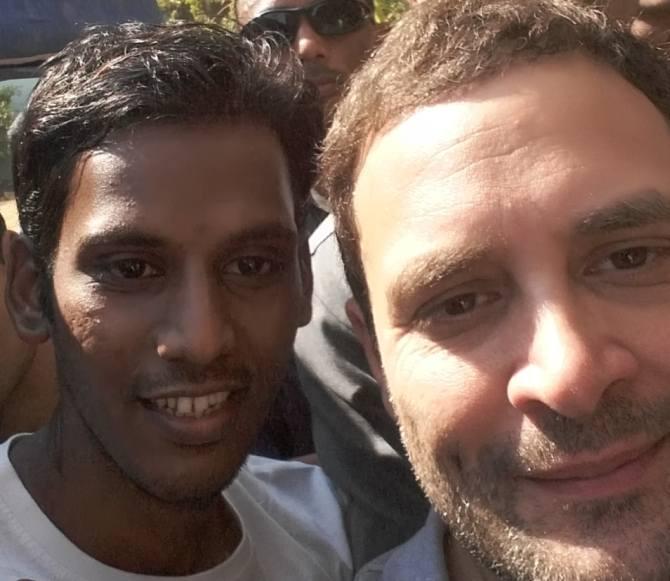 Sunil Salunke, a final year Information Technology student at Xavier's College at Mahim, central Mumbai, got to click a selfie with Congress vice president Rahul Gandhi and his happiness is evident on his face. Photograph: Sunil Salunke
"It happened by chance. I was standing near the entrance to the main building when Rahul Gandhi came in. Spontaneously, I cried, 'Go Rahul, go'," says Salunke about his tryst with the Congress VP on Saturday afternoon.
Rahul was on a whirlwind padyatra (foot march) in Mumbai on Saturday afternoon to demand a reduction in electricity charges for Mumbaikars. En route to his final destination at Dharavi, Gandhi addressed a small gathering of party workers at Xavier's College.
"When he (Rahul Gandhi) went inside the washroom, I was thinking of asking his security guards to allow me to click a picture with him. While the guards turned me down, when he came out, I again shouted 'Go Rahul, go!' and drew his attention towards me. He immediately asked his security guards to make way and shook hands with me. When I asked him for a selfie, he readily agreed," says Salunke, who later escorted Rahul on a detour of the college.
"Since we are having our sports day, I asked him to come and see the spectacle for some time. He put his hands around my shoulder and I took him to the ground," says Salunke about his 20 seconds of fame.
At the grounds, Rahul spoke to a young girl who was writing the scores of an ongoing contest between six teams.
"Rahul asked me my name and wished us all well," she says. "'May the best man win' he said before leaving the college."
While the college sports day went on, Salunke had become an instant hit with his college-mates for being the only guy on the campus to get to click a selfie with the Congress vice president.