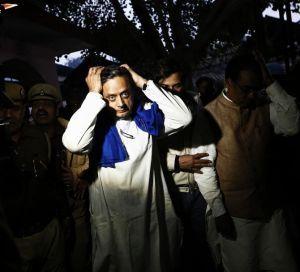 After a round of questioning of Shashi Tharoor, the Delhi police on Wednesday made it clear that it will probe if the IPL angle was related to the death of his wife Sunanda Pushkar.
Delhi Police Chief B S Bassi said the former Union minister was 'cooperative' during four-hour-long questioning last night. He did not rule out his further questioning.
Asked about the future course of action in the case, he said the Special Investigating Team will analyse what Tharoor had told them and then take further action.
On whether the SIT was looking into the IPL angle, he said, "Whatever has been said about IPL will be relevant and will definitely be asked about" as the objective is to reach to the bottom of the truth.
Police sources said other than various matters that could be related to the incident, 58-year-old Tharoor was questioned about the IPL controversy. Sunanda, 52, was found dead in a five-star hotel room here on January 17 last year. The Delhi police recently filed a case of murder in the case.
The IPL controversy broke in early 2010 when Tharoor was minister of state for external affairs. There were allegations that he had 'misused' his office to ensure that Rs 70 crore, which was equivalent to 19 per cent equity in IPL Kochi franchise Rendezvous Sports, was paid to Sunanda.
Sunanda, who was a friend and yet to become Tharoor's wife at that time, had refuted allegations of any wrongdoing. She had also denied that she was acting as the front person to Tharoor in the Kochi IPL franchise.
"I am rendering services for Kochi franchise. (I) have advised them in getting IPL. I am also advising them on marketing and branding and hence I am getting sweat equity. It is only on paper now. I have not yet got it," Pushkar had said in a statement when the IPL controversy broke out.
Later, she quit Rendezvous Sports World after deciding to return her free equity worth Rs 70 crore to the franchise in a last ditch attempt to save Tharoor. "We are examining issues with an open mind. We are trying to ascertain what happened and if something, whether somebody is criminally liable and who that person is. So it is an open ended questioning, Bassi said.
Asked if that meant there are no suspects so far, the police commissioner said, "So far there is nothing...but let us first complete the process. You know conclusion can't be
reached midway."
Queried whether Tharoor will be questioned again, Bassi said, "We will now analyse and then we will take a call."
When media persons asked whether the Congress member of Parliament was being looked at as a witness by the police, he said that it was an open-ended questioning. He, however, stopped just short of conceding that there are no suspects in the case so far.
Police sources said the Congress MP may again be called for questioning in the next couple of days even as Bassi noted that some more people will be called as the process of investigation is on.
Referring to Monday's questioning which started at around 8 pm and continued till midnight, the police commissioner said, "We have spoken to him about the background. We have spoken to him about what happened on that day and certain things which have been said otherwise in the media. They raise certain questions and we sought information on these issues as well."