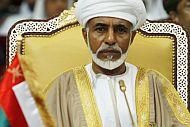 Sultan of Oman Qaboos bin Said Al Said will be the chief guest of 2013 Republic Day celebrations, a highly-placed source to rediff.com.
A decision to this effect was taken by the Cabinet committee after informal discussions through diplomatic channels with the Sultan of Oman.
With the acceptance of the invitation, President Pranab Mukherjee will now write an official invite to the Sultan of Oman to be followed up by telephone calls from Prime Minister Manmohan Singh and External Affairs Minister S M Krishna.
This invitation to the Sultan of Oman is being viewed as significant, as the government is shifting its focus on energy security.
The 14th-generation descendant of the founder of the Al Bu Sa'idi dynasty Qaboos bin Said Al Said assumed power on July 23, 1970, in a palace coup directed against his father Sa'id bin Taymur.

The first thing that he did after taking over as Sultan was to eliminate many of his father's harsh restrictions, which had caused thousands of Omanis to leave the country.

Faced with a past filled with victories and achievements but a present filled with despair and deprivation, he opted for a rapid, but controlled development, one which has led his country, over three decades, into the 21st century.