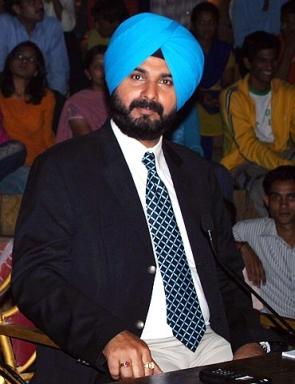 Cricketer-turned-Bharatiya Janata Party member of Parliament Navjot Singh Sidhu on Thursday said despite being part of ruling Shiromani Akali Dal-BJP alliance in Punjab, he feels he is in the opposition as several developmental works in his constituency have been stalled.
"...being in the ruling party in Punjab, I feel that I am sitting in the opposition," Sidhu told reporters in Amritsar a day after his return to his constituency.
He accused the Parkash Singh Badal-led government of stalling developmental projects in his Amritsar constituency, which he represents in Lok Sabha. "I feel I am MP in the opposition since my all developmental projects for the holy city of Amritsar are badly and wilfully scuttled by the people who are in the power corridor of Punjab.
"I have brought major developmental plans for the holy city including multiple flyovers, solid waste management, expansions and renovations of entire sewerage network for Amritsar, widening of narrow roads, renovations of all the railway over bridge, but unfortunately all were dashed to the ground and interest of the city inhabitants was badly ignored."
Sidhu claimed that the Amritsar improvement trust authority was having several crores of funds and alleged that they were diverted wilfully to other districts of Punjab. He claimed the Amritsar city needed ten times more funds than earlier as it was left behind for several years due to "non developmental attitude of state government."
"I begged with folded hands numerous times before the state government to complete developmental projects for the larger interest of city inhabitants," he said.
Last month, Sidhu's wife and sitting BJP MLA Navjot Kaur from East Amritsar, who is also the chief parliamentary secretary, had slammed the Badal-led government for alleged lack of development in the state, including in her constituency.
© Copyright 2022 PTI. All rights reserved. Republication or redistribution of PTI content, including by framing or similar means, is expressly prohibited without the prior written consent.