Eyewitnesses to the crash involving two Indian Air Force fighter jets in Morena in Madhya Pradesh on Saturday, which killed a pilot, recounted hearing a deafening sound and sighting balls of fire descending to the ground followed by two persons in uniform parachuting into the thicket nearby.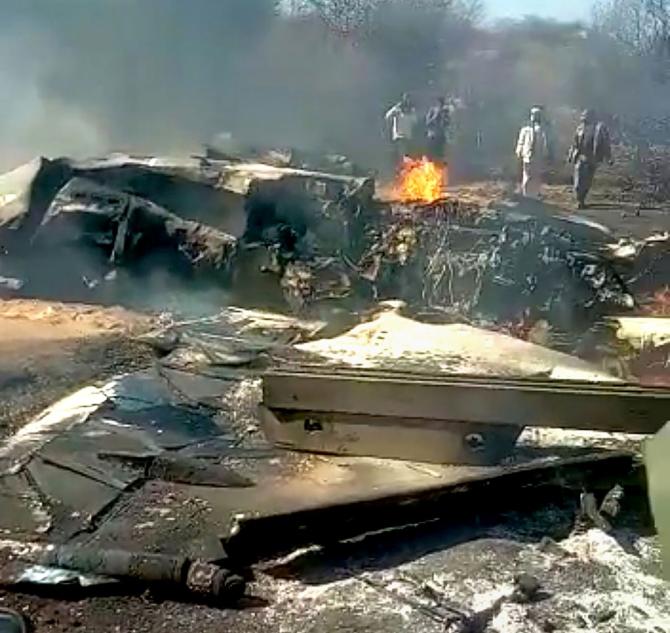 A Sukhoi 30MKI and a Mirage-2000 aircraft of the Indian Air Force crashed during a routine training mission in the morning, with the two pilots of the Sukhoi-30MKI aircraft managing to eject safely, and the pilot of the Mirage-2000 sustaining fatal injuries.
The debris of the two aircraft fell in Pahargarh area in Morena, 75 kilometres from the district headquarters, while some parts also fell in Bharatpur, just across the border in neighbouring Rajasthan.
Eyewitnesses said people who assembled at the site extricated the two pilots from the thicket and laid them down on the ground till an IAF chopper arrived and flew them for treatment to Gwalior, from where the two aircraft had taken off on the routine training mission.
Debris from the two aircraft were strewn over an area of 500-800 metres, some four kilometres away from Pahargarh, and were on fire, they said.
The people in the vicinity tried to extinguish the flames engulfing the two aircraft by throwing mud, these eyewitnesses said, adding the area was soon swarming with more than 1,500 residents of 15 villages nearby.
"I was standing with some people here when we heard a massive noise from above, like a powerful bomb blast. We looked up to see balls of fire descending, some of which landed in a forested path here and some in Bharatpur on the other side," Pahargarh sarpanch Shailendra Shakya told media outlets at the site.
"We saw two parachutes coming down and we waited for 15-20 minutes for the duo to land. However, they fell into the thicket and sustained injuries. We took them out from the bushes and laid them on the ground. While we were talking to the two pilots in uniform, an IAF helicopter arrived and flew them to Gwalior," Shakya informed.
He claimed a dismembered body with hands cut was found near the debris, adding that local and IAF officials arrived at the site and started a search operation.
Pahargarh resident Veeru said he was close to the spot where the accident took place at around 10:30am.
"I saw an aircraft with its front portion in flames. I saw smoke billowing from a spot some five kilometres away. We tried to extinguish the flames with mud in vain as we did not have water at the time," he said.
Sarpanch Shakya called the police and fire brigade after the incident, he claimed.