'Now the very government we helped to form is telling us we are enemies of the nation!'
The BKU has stayed away from direct participation in politics. But this time they are not so sure, reports Aditi Phadnis.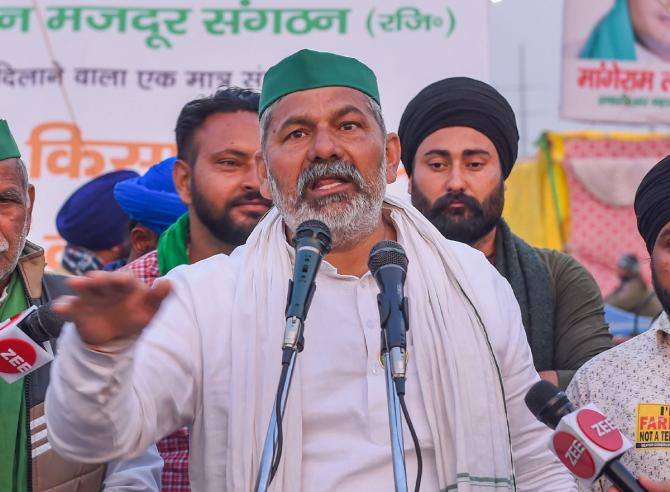 Gopi Kashyap, an office-bearer in the Bharatiya Kisan Union's youth wing, is not a kisan (farmer) at all.
Nor is he a Jat.
But he does belong to western Uttar Pradesh (Nithari village) and until recently, he was a dedicated supporter of the Bharatiya Janata Party.
"We sent Sharmaji (Mahesh Sharma, Union minister and Lok Sabha MP from the Gautam Buddh Nagar constituency) to Parliament twice.
"Now the very government we helped to form is telling us we are enemies of the nation!" Kashyap says incredulously.
He adds: "And what have they given us? You want to send your children to government schools, but facilities are so bad, you're forced to send them to private schools: Even if you can't afford it.
"Families I know have been ruined because there are no affordable government medical facilities for serious illness.
"My family had land and we've been farmers for generations. But our land was acquired 30 years ago for a pittance and now there's a shopping mall there. I run my home from the rent I get from a couple of shops.
"I joined the BKU, though I'm not a farmer, because I felt I needed to identify as something and farming was the only thing I knew", he says.
We're in a small room. Mahendra Singh Tikait's garlanded picture hangs on one wall. A charter of demands of farmers hangs on another with the green BKU flag fluttering in the breeze outside.
Kashyap goes to Ghazipur on the Delhi-UP border every day where farmers from Western UP are 'on duty'.
He is a friend of Gaurav Tikait, the son of BKU president Naresh Tikait and heir presumptive of the Baliyan khap.
Khaps are clans that trace their origins to one family (gotra).
Baliyan is the largest Jat khap of Uttar Pradesh, spread over 84 villages.
Mahendra Singh Tikait (father of Naresh and Rakesh Tikait), says Kashyap, got his name because, when he lost his father at age eight, he was anointed Chaudhry (head) of the khap with a tika (vermilion) on his forehead by the village elders, all farmers.
It was the melding together of caste and occupation.
Tikait took over the BKU, which had its first successful siege in 1988 over low prices of sugarcane and upward revision of electricity and water rates that led to firing and the death of at least two farmers.
A rally organised by him at Delhi's Boat Club immobilised the capital for days, recalls Kashyap with pride.
When the elder Tikait died, his two sons assumed command of the khap, and the BKU.
Naresh became president and Rakesh became organiser and logistics head.
For Kashyap, who is nothing more than a zonal chief of the organisation, it is a matter of awe and pride to be associated with the BKU because with it comes the might of hundreds and thousands of farmers:
"We organised a massive sit-in at Jewar (the site of a proposed international airport) three months ago. Our biggest problem is: Kisans here don't have a place to store their harvest, not even a place where they can weigh it. So whatever the arhati (middleman) says is the weight, we have to accept it. So we organised a panchayat at Jewar. When the police came to evict us, we put a symbolic kaanta (weighbridge) at the police station and invited farmers there to weigh their produce there."
The Jats of western UP voted for the BJP with both hands.
One of the beneficiaries was former Chief of Army Staff Gen VK Singh, who won for a second time from his constituency Ghaziabad, with a record margin.
So enamoured were the Jats of the BJP that they distanced themselves from traditional friends, the Muslims.
But Kashyap says the BKU's actions have led to a narrowing of the gap.
The next challenge will be the Uttar Pradesh assembly elections, due 2022. The BKU has stayed away from direct participation in politics. But this time, Kashyap is not so sure.