Students clashed with security forces in several places in Kashmir valley on Monday during protests against the alleged 'highhandedness' of security forces at a college in Pulwama in south Kashmir.
All Photographs: Umar Ganie/Rediff.com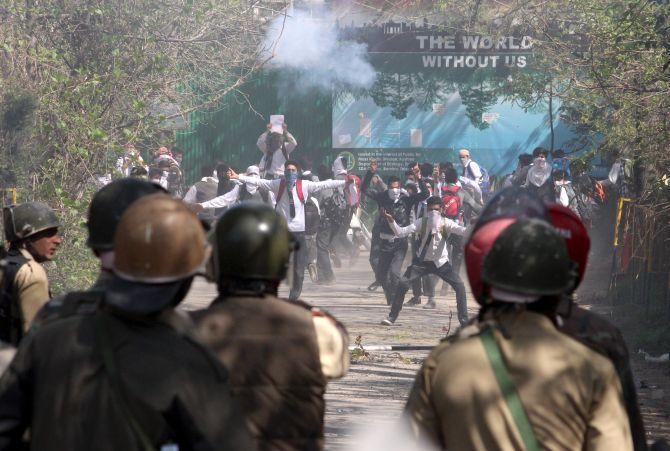 IMAGE: Students throw stones at cops during clashes in Srinagar on Friday.

The students also boycotted classes.
The protesting students, mostly from degree colleges across the valley and some universities, tried to take out rallies but were stopped by police, leading to clashes, police officials said.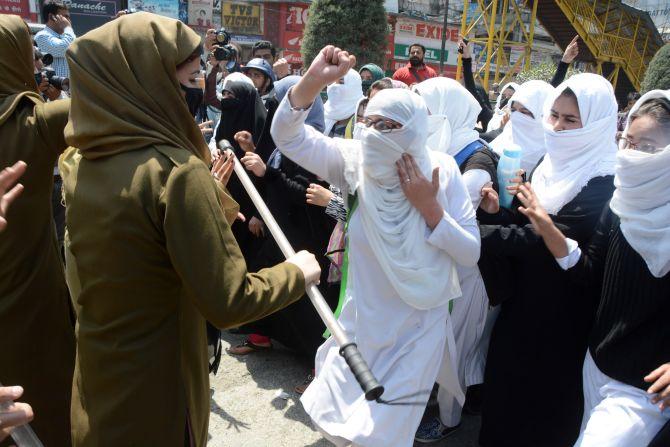 IMAGE: Protesting girl students stopped by women cops in Srinagar.

The clashes led to disruption in normal activities in various places including Lal Chowk, the nerve centre of the city, the officials said.
Various student groups had called for protests on Monday against the 'brutality' perpetrated by forces on students of Degree College Pulwama in south Kashmir on Saturday, leaving many a students injured.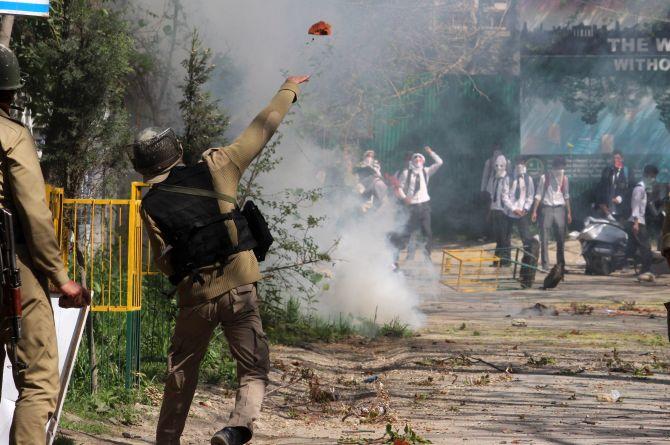 IMAGE: The students boycotted classes to protest against alleged 'highhandedness' of security forces.

The trouble started when a group of students took out a rally near Sri Pratap College on Moulana Azad Road in the vicinity of Lal Chowk against the Pulwama incident, leading to clashes between the protesting students and the law enforcing agencies, the officials said.
They said police fired dozens of teargas shells and used batons to chase away the protesting students who indulged in stone-pelting and fought pitched battles with them.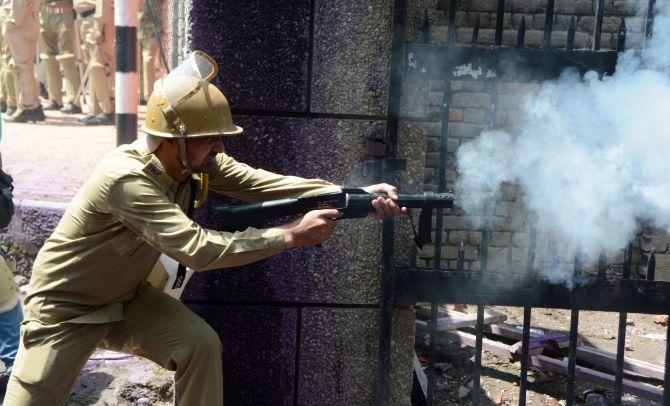 IMAGE: A policeman fires tear gas at protesters.

The clashes created panic in the area, forcing shopkeepers to pull down the shutters of their establishments, the officials said, adding traffic on Moulana Azad Road was also affected.
Protests were going on in various colleges in the valley including in Ganderbal, Baramulla, Shopian and Pulwama districts, the officials said.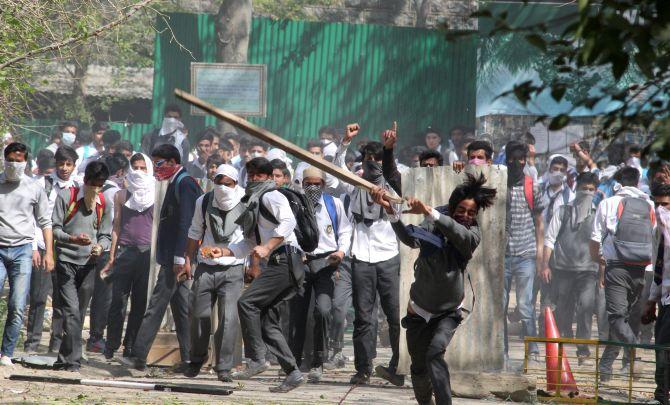 IMAGE: The clashes broke out when the protesting students were stopped from taking out a rally.

They said the clashes left many, including security forces personnel, injured.
"We are compiling the details of the injured," an official said.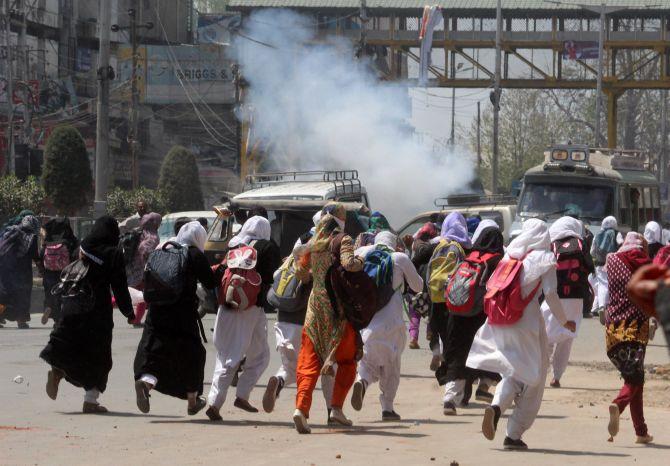 IMAGE: Girl students run for cover as cops fire tear gas at protesting students in Srinagar.

National Conference's working president Omar Abdullah questioned the handling of students' protests by the Jammu and Kashmir government, led by Chief Minister Mehbooba Mufti.
'I hope @MehboobaMufti has thought through the implications of mass student protests across the valley. This is a deeply worrying situation (sic),' the former Jammu and Kashmir chief minister wrote on Twitter.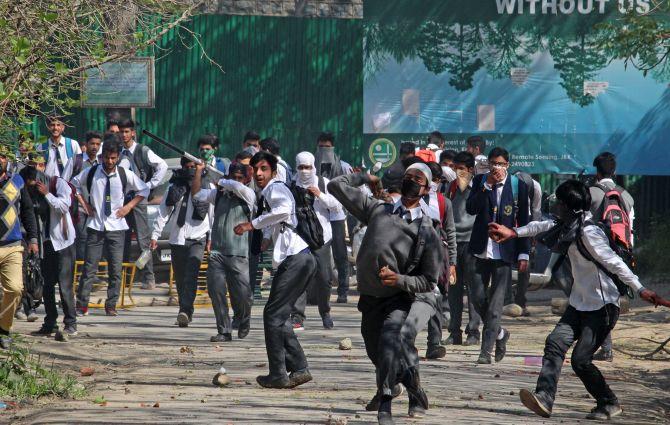 IMAGE: The clashes created panic in the area, forcing shopkeepers to pull down the shutters of their establishments.

'Why could all colleges/universities not have been closed for a few days after the Pulwama clashes? Is @MehboobaMufti not alert to situation? (sic),' he wrote in another tweet.
Soon after, protests broke out in nearby Women's College and other colleges in the city and elsewhere in the valley.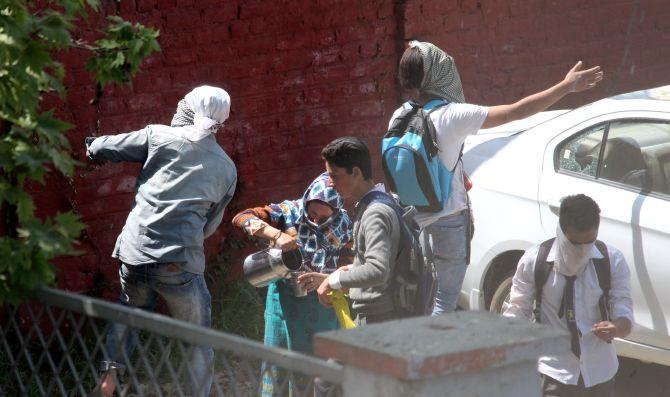 IMAGE: A woman gives water to protesting students in Srinagar.

Meanwhile, the Jammu and Kashmir police has directed telecom companies to shut their 3G and 4G services in the Valley as the state authorities feel there has been an attempt to spread fear and show security personnel in a bad light through online videos.
The decision was taken after several videos surfaced in recent days, some showing local politicians being threatened by terrorists in various parts of the Valley and others which showed alleged atrocities by Army, police, Central Reserve Police Force or other para-military forces deputed for Parliamentary by-elections.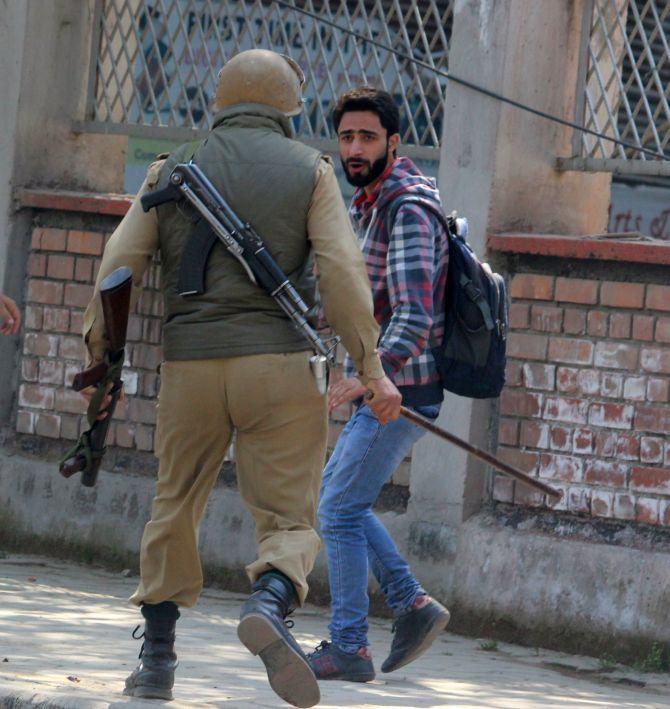 IMAGE: A cop charges a student during clashes in Srinagar.

Officials said that it appears that such videos were being circulated with an aim to create fear among people or show the security personnel in poor light.
Controversy peaked when a video showing a man tied to an army jeep in Budgam district of central Kashmir on April 9 surfaced when polling was underway for the Srinagar Parliamentary bypoll.
There were videos showing traders and political leaders in Pulwama of South Kashmir being threatened by terrorists at gun point.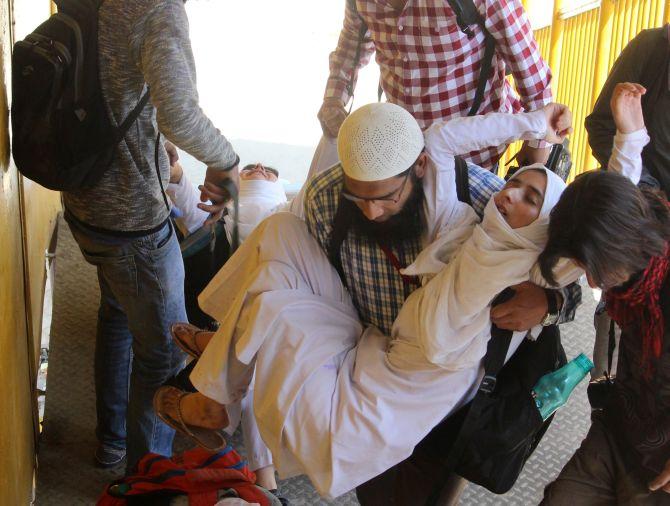 IMAGE: Injured students being shifted to hospital.

"Such videos are only aimed at creating scare in general public," a senior police official said.
Internet services had been barred in the Valley keeping in view the sensitive Srinagar bypoll and were restored on April 13.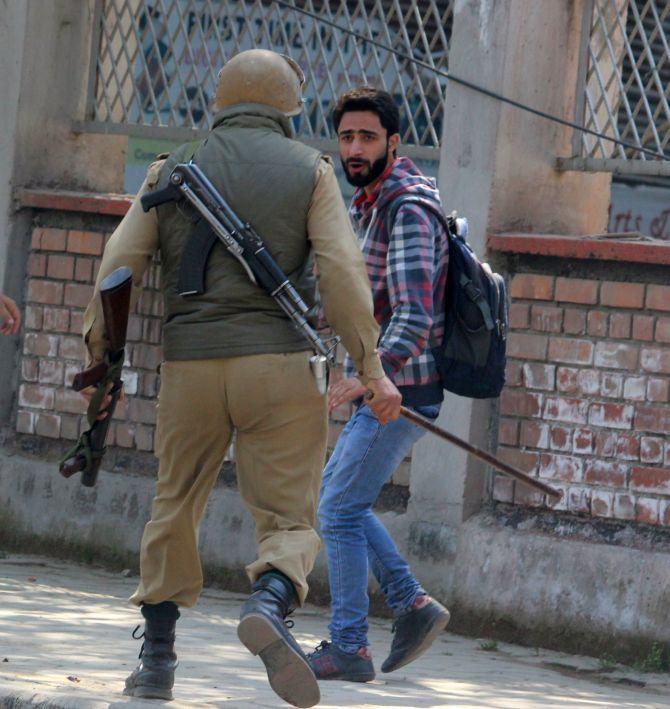 © Copyright 2023 PTI. All rights reserved. Republication or redistribution of PTI content, including by framing or similar means, is expressly prohibited without the prior written consent.