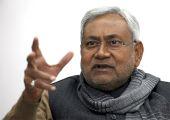 Activists of the Akhil Bharatiya Vidyarthi Parishad, National Students Union of India and the All India Students Federation showed black flags to Bihar Chief Minister Nitish Kumar and hundreds of "contractual para teachers" again protested on Thursday and shouted slogans against his government during his Adhikar Yatra in Begusarai district, the police said.


"ABVP, NSUI activists showed black flags to Nitish Kumar to express their anger and unhappiness over acute power shortage in Begusarai," district official said.
According to police officials, some protesting ABVP and NSUI activists with black flags in their hands tried to disrupt chief minister's vehicle by running behind it.
Later, contractual para teachers protested against Nitish Kumar's Wednesday remarks that demands of them for parity of salaries with government teachers won't be met.
The police resorted to lathicharge when some protestors showed their slippers to CM's convoy, and others tossed chairs at his rally.
Earlier, angry over the protests, Kumar told the teachers in Darbhanga that his government would not fulfill their demands.


"The government will not consider the demand for parity in salaries and allowances with regular teachers. Do whatever you can?" he had said.
The teachers had earlier protested against Nitish Kumar in Madhubani, East Champaran, Sitamarhi and Muzaffarpur districts.

Image: Bihar CM Nitish Kumar